U.S. Secretary of Defense, Lloyd Austin who is on his way to the annual Shangri-La Dialogue Asian security summit, made a stopover at Japan on Thursday, June 1, 2023, for talks with Japanese Defense Minister, Yasukazu Hamada.
In his discussions with Hamada, Austin stressed the value of communication, calling it unfortunate that his Chinese counterpart is refusing to meet him at the upcoming annual security conference in Singapore, which both men are attending.
At a joint news conference, Austin noted China's increasingly assertive military actions in international airspace and waterways in the region, saying, "The provocative intercepts of our aircraft and also our allies' aircraft, that's very concerning, and we would hope that they would alter their action."
The United States military disclosed on Tuesday, May 30, 2023, that a Chinese fighter jet flew aggressively close to a U.S. reconnaissance aircraft over the South China Sea, forcing the American pilot to fly through the turbulent wake.
"I'm concerned about at some point having an incident that could very, very quickly spiral out of control. I would welcome any opportunity to engage with leadership. I think defense departments should be talking to each other on a routine basis or should have open channels for communication."

Lloyd Austin
Despite Beijing's declaration that Austin and his Chinese counterpart would not meet at the security conference, Hamada is anticipated to attend and have a side meeting with Li Shangfu, China's Minister of National Defense.
To strengthen communication and prevent unintentional contacts in the volatile area, Japan and China established a defense hotline in March. Hamada and Li just had their first phone conversations on the hotline. Washington and Beijing have yet to hold such a talk, and when Austin phoned their crisis line in February, the call went unanswered.
Hamada opined, "We need to strengthen our cooperation of Japan-U.S., and Japan-U.S.-South Korea."
Ties between Japan and South Korea have improved rapidly in recent months under Washington's pressure in the face of growing regional threats from China, North Korea and Russia
Austin Reaffirms America's Unwavering Commitment To Japan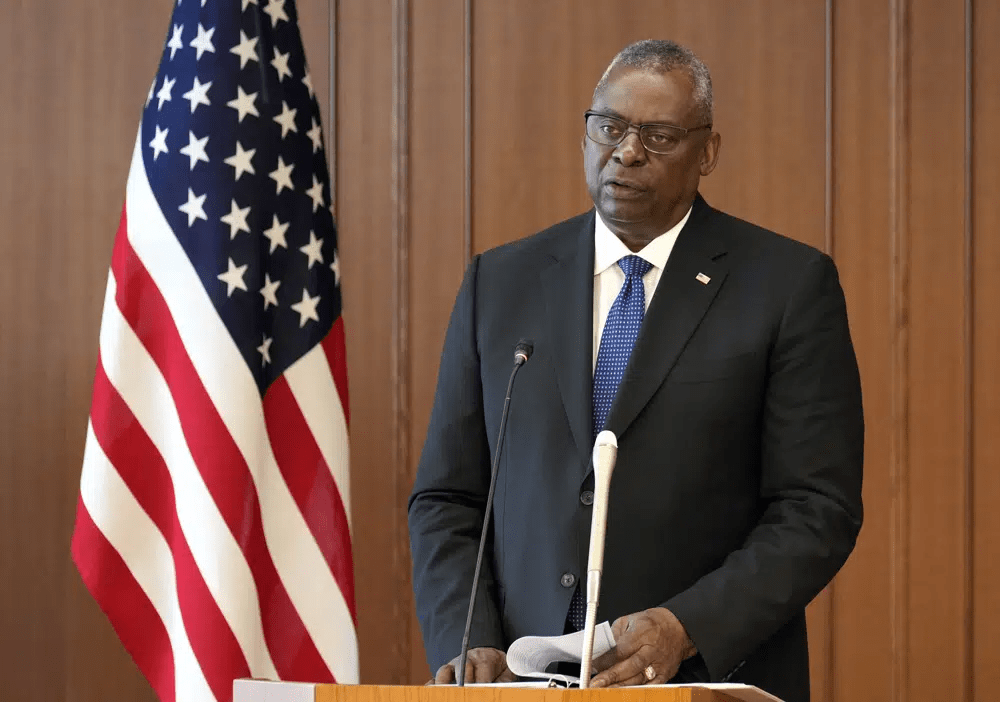 Austin and Hamada agreed to strengthen extended deterrence for Japan, which includes U.S. nuclear weapons.
"I am here to reaffirm America's unwavering commitment to Japan. This includes extended deterrence and provided by the full range of U.S. conventional and nuclear capabilities," Austin averred.
Austin iterated that the United States stands with Japan and South Korea in the face of Pyongyang's provocations and that "the United States will take all necessary measures to secure to ensure the security of our homeland in the defense of our allies."
The two ministers also agreed to step up and expand their defense industries and strengthen multinational formats, including with South Korea, Australia, the Philippines and India to reinforce their Indo-Pacific security cooperation.
Later on Thursday, Austin met with Japanese Prime Minister, Fumio Kishida. Kishida disclosed during their discussion that Japan wants to further strengthen its deterrence and response capabilities by working with the United States, especially focusing on Japan's use of strike capability.
Under its new security strategy issued in December, Japan pledged a military buildup that includes strike capabilities and doubling defense spending; a break from its postwar self-defense-only principle.
READ ALSO: Forex Bureaus Association of Ghana Predicts the Cedi to Appreciate Against the Dollar Due to Creditor assurance of $3bn IMF loan