Addressing the Russia-Africa summit on Friday, July 28, 2023, President of Russia, Vladimir Putin stressed that Moscow will closely analyze the African peace initiative on Ukraine, a peace proposal that African leaders have sought to pursue to help end the ongoing war.
"This is an acute issue, and we aren't evading its consideration," Putin said, adding that Russia is treating the African initiative with respect and "looking at it attentively."
 Nonetheless, Putin opined,"I believe it's necessary to also talk to the other side, although we are grateful to our African friends for their attention to the issue."
African leaders urged the Russian President to move ahead with their peace plan to end the Ukraine war and renew the Black Sea grain deal.
While the leaders were not directly critical of Russia, their statements on the second day of the summit were pointed reminders of the consequences of the conflict, especially on food prices.
Speaking through a translator, Republic of the Congo President, Denis Sassou Nguesso said, "The African (peace) initiative deserves the closest attention, it mustn't be underestimated."
"We once again urgently call for the restoration of peace in Europe," he added.
Egyptian President, Abdel Fattah el-Sisi also called on Russia to rejoin the grain deal, saying that it was "essential to reach agreement" on reviving the deal.
African leaders had presented their plan to Putin and Ukraine's President, Volodymyr Zelenskyy last month.
Also, Putin rejected suggestions that Russia's "special military operation" in Ukraine was responsible for high global food prices, saying that Western "mistakes" were responsible.
In his speech on Friday, Putin lauded Africa's role in the emerging "multipolar world order," noting that "the era of hegemony of one or several countries is receding into the past, albeit not without resistance on the part of those who got used to their own uniqueness and monopoly in global affairs."
"Russia and Africa are united by an innate desire to defend true sovereignty and the right to their own distinctive path of development in the political, economic, social, cultural and other spheres."

Vladimir Putin
The Russian President revealed that Russia plans to expand trade and economic ties with Africa and continue efforts to relieve their debt burden by writing off another $90 million in their debts.
Additionally, Putin noted that Moscow also stands ready to bolster defense ties with African countries by helping train their military and expanding supplies of military equipment, some of them on a no-cost basis.
Putin Claims Ukraine Is Refusing To Join Negotiations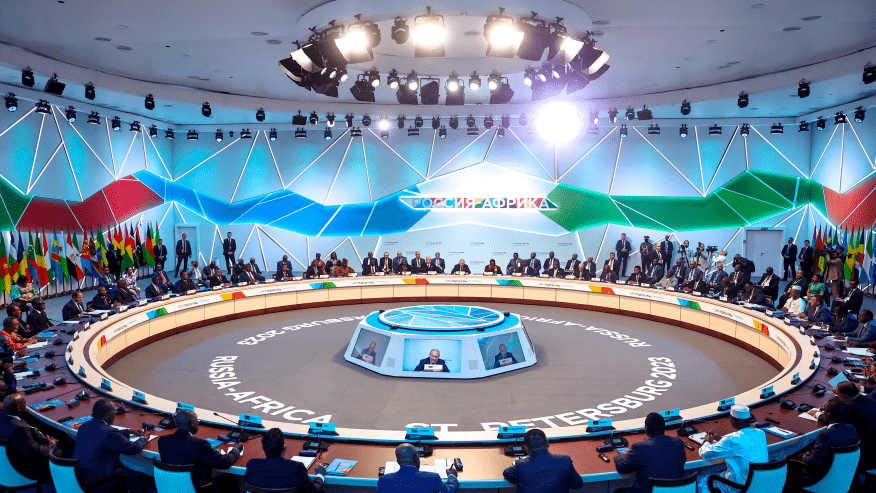 Moreover, Putin reiterated that Russia is ready for negotiations with Ukraine, but Kyiv is refusing to join them.
Putin made this comment in response to comments from African Union (AU) Commission Chairman, Moussa Faki Mahamat, who said that the AU attached great value to the integrity and sovereignty of states and the peaceful settlement of crises through compromise.
Kremlin Spokesperson, Dmitry Peskov echoed Putin's sentiments, stating that Ukraine's position to resolve the Ukraine conflict is "irreconcilable."
Speaking at a press briefing in St. Petersburg, Peskov emphasized that Russia remains open to finding a peaceful solution.
"Although Russia remains open to negotiations in order to achieve its goals, despite the rather difficult situation which the Ukrainian side is now in, they still have not changed anything. They reject the possibility of any negotiations."

Dmitry Peskov
When asked about the African peace initiative on Ukraine, Peskov replied that Putin would continue dialogue with the continent's leaders.
Peskov also announced that Moscow plans to hold a third Russia-Africa Summit in the future.
Kyiv has repeatedly said it will not enter into negotiations with Russia while Moscow holds a fifth of it's territories. However, Russia has repeatedly said that any discussions must take account of these "new realities."
READ ALSO: Nation Cannot Be Built By Morally Undeveloped Citizens- Spokesperson Of National Chief Imam