Ukrainian Forces have been ordered to withdraw from Severodonetsk, according to the top regional official.
The Eastern city has endured weeks of bombardment, as Russian Forces try to take complete control of the region. A Ukrainian retreat would be significant because it would leave all of Luhansk under Russian control, except for the city of Lysychansk.
Report suggests that Luhansk, a mainly Russian-speaking region in Eastern Ukraine, is a key priority for President Vladimir Putin. Together with the Donetsk region, it makes up what is collectively known as the Donbas, which is a large, industrial area that has been the focus of a Russian-backed separatist movement since 2014.
Russian President, Vladimir Putin, allegedly claimed that Russian speakers in the Donbas have been victims of genocide, which is a key justification for his invasion of Ukraine. In turn, Ukraine is accusing Moscow of committing genocide against the Ukrainian people with the indiscriminate bombing and shelling.
Most Buildings Heavily Damaged
Russian forces have almost encircled Severodonetsk in recent days, and are also targeting its twin city, Lysychansk.
In a Ukrainian televised address, Luhansk Regional Head, Serhiy Haidai, said that "Remaining in positions that have been relentlessly shelled for months just doesn't make sense", adding that "They [Ukrainian forces] have received orders to retreat to new positions… and from there continue their operations".
Elsewhere in Severodonetsk District, the city's Head, Roman Vlasenko, said Ukrainian troops are still in the city, telling a local radio firm on Friday, June 24, 2022, that a withdrawal could still take some time. The city's entire infrastructure has been completely destroyed, he added, with over 90% of houses shelled and 80% of them critically damaged. Hundreds of civilians are thought to remain in Severodonetsk, with many seeking shelter in the sprawling Azot chemical plant. Statistics suggested that prior to the start of the war, the city had a population of around 100,000 people.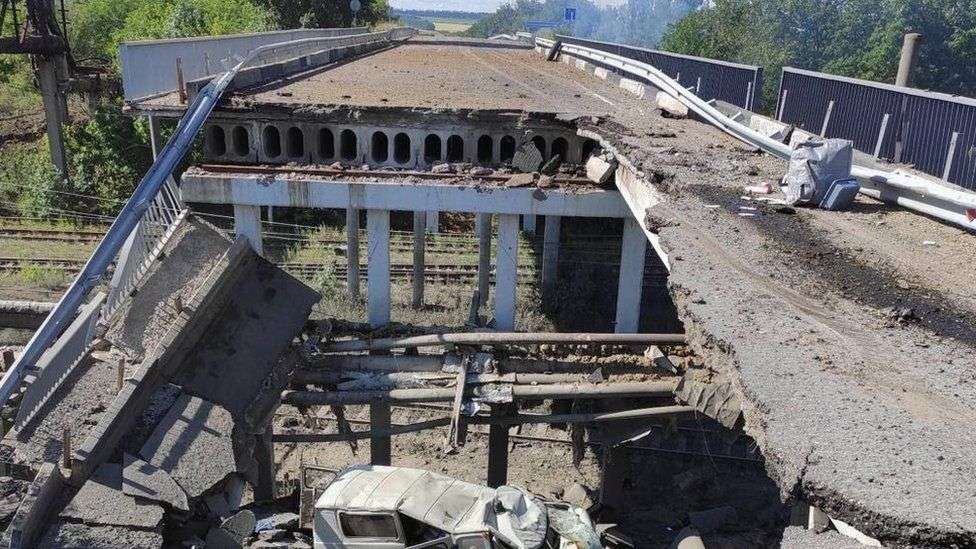 On Thursday, June 23, 2022, Russian forces took control of more territory to the South of Severodonetsk and Lysychansk, raising fears that Ukrainian forces could soon be encircled there. But Luhansk Regional Head, Serhiy Haidai, said it would be "very difficult" for the Russians to seize Lysychansk straightaway, on the basis that the city, which is on a hill, has "many defensive positions".
He said civilians are still being evacuated from Lysychansk, and aid is still being delivered to the city, despite roads and bridges leading into the city being destroyed.
In a separate development on Friday, June 24, 2022, a Russian-appointed official in the occupied Southern City of Kherson was killed in a car blast, Russian news agencies reported.
READ ALSO: CAF Unveils Official WAFCON 2022 Match Ball