In his first public comments since the start of the Quran desecration cataclysm that has severely strained Stockholm's ties with Muslim nations, Prime Minister Ulf Kristersson told a Swedish news agency that he was "extremely concerned" about yet another wave of desecrations.
The Swedish Prime Minister revealed on Thursday, July 27, 2023, that the police have received several permit applications for the burning of religious texts in the country next week, and that he fears this may escalate tensions further with the Muslim world.
"It's the police that make those decisions, not me. If they (permits) are granted, we face a number of days with the obvious risk of serious things happening."

Ulf Kristersson
Kristersson also disclosed that his government has created a new task force among security agencies to come up with measures to combat terrorism and violent extremism.
A recent series of public Quran desecrations by a handful of anti-Islam activists in Sweden and more recently, in neighboring Denmark, has trigerred angry demonstrations in Muslim countries.
Sweden does not specifically have a law that bans the burning or desecration of the Quran or other religious texts. The right to hold public demonstrations is valued and protected by the Swedish Constitution.
Police generally give permission based on whether they believe a public gathering can be held without major disruptions or risks to public safety.
Meanwhile, Kristersson said on Wednesday, July 26, 2023, that a recent increase of Quran burnings is taking place with "the intention of dividing and scattering" as well as in different ways diminishing Stockholm's international position.
In a Facebook post, Kristersson noted, "Sweden is currently being exposed to influence campaigns supported by states and state-like players, whose very purpose is to hurt Sweden and Swedish interests."
He also accused Russian players of being active in "spreading the false claim that Sweden as a state would be behind the scrutiny of various scripts."
"It is, of course, completely wrong," said Kristersson.
"The coordinated disinformation campaigns that Sweden is now exposed to worsen the situation for Swedish citizens and companies abroad, and weaken the security within the country. It increases the risk of brutal terrorist attacks."

Ulf Kristersson
Sweden's Foreign Minister Appears Before Parliament's Foreign Affairs Committee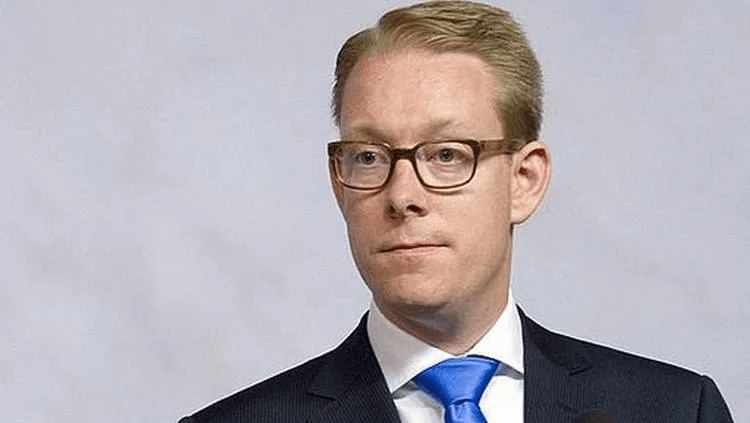 Also on Thursday, Foreign Minister Tobias Billström and security service representatives appeared before Swedish Parliament's foreign affairs committee to discuss the Quran burning crisis.
The appearance came at the request of the opposition Social Democratic Party.
After the meeting, Billström informed reporters that the situation was serious but that there was no "quick fix" to cool down the anti-Swedish mood in the Muslim world.
Billström was quoted as saying, "Our primary and most important task is to protect Swedish interests and the safety of Swedes both here and abroad."
"We should take the developments that are now underway very seriously; everyone in our country should do so," he added.
The Swedish Security Service on Wednesday disclosed that Sweden's image among Muslim nations, as well as its security situation, have deteriorated after the recent Quran burnings, and that it could face threats from "within the violent Islamist milieu."
In a statement, SAPO, as the Security Service is also known, noted that the image of Sweden has changed "from a tolerant country to a country hostile to Islam and Muslims, where attacks on Muslims are sanctioned by the state and where Muslim children can be kidnapped by social services."
The Organization of Islamic Cooperation has called an emergency remote meeting July 31, 2023, at the ministerial level to discuss the Quran burnings in Sweden and Denmark.
READ ALSO: After Digitization, Revenue For ECG And Passport Office Skyrocketed- Bawumia