Early results from the US presidential election between incumbent Republican Donald Trump and his Democratic challenger Joe Biden show a tight race in a number of key states.
Tight races are unfolding in Ohio, Florida and North Carolina as President Donald Trump and Democrat Joe Biden battle for the White House.
Experts project Biden will win New Mexico, Colorado, Connecticut, New Jersey, New York, Vermont, Delaware, Washington, DC, Maryland and Massachusetts whiles Trump will win in Alabama, South Carolina, North Dakota, South Dakota, Arkansas, Indiana, Oklahoma, Kentucky, West Virginia and Tennessee.
Donald Trump leads Joe Biden in the potentially pivotal race of Florida with almost all votes counted. Democrats are beginning to look toward Ohio and North Carolina where wins for Biden could block Trump's path to the 270 electoral votes needed for victory.
But other key states of Georgia, Pennsylvania, Wisconsin, Michigan, Arizona, Ohio, Texas, and North Carolina are toss-ups.
To be elected president, a candidate must win at least 270 votes in what is termed the Electoral College. Each US state gets a certain number of votes partly based on its population and there are a total of 538 to be competed for.
This system explains why it is possible for a candidate to win the most votes nationally – as Hillary Clinton did in 2016 – but still lose the election.
More than 100 million people cast their ballots in early voting before Election Day on November 3rd- setting US on course for its highest turnout in a century.
Control of Congress is also at stake. As well as the White House, Republicans are vying to hang on to a Senate majority.
The House of Representatives is expected to stay in Democratic hands.
'Stay Safe and Stay Home'
The FBI has said it is investigating mysterious robocalls urging people across the US to stay home on Election Day. Millions of voters reportedly received automated calls telling them to "stay safe and stay home".
The origins of the calls remain unclear, and some have not specifically mentioned voting.
"There's a little bit of confusion about this one across the industry," Giulia Porter, vice president at RoboKiller, a company that fights robocalls, told reporters.
One of the calls reportedly said, "Hello. This is just a test call. Time to stay home. Stay safe and stay home."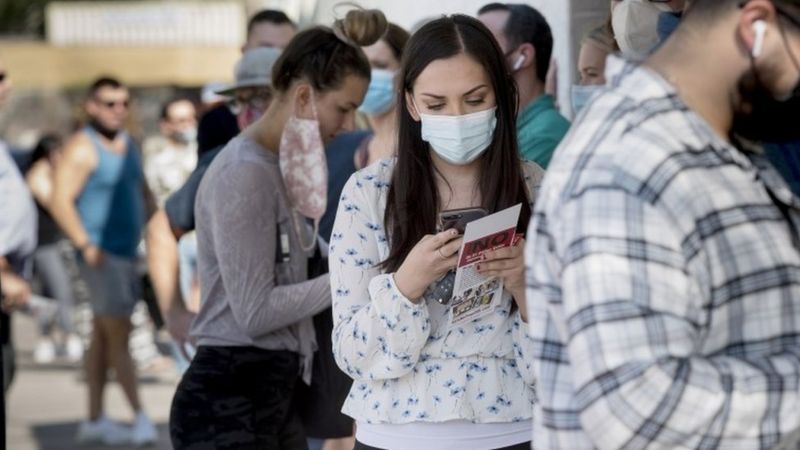 Officials raised concerns over robocalls in the key battleground state Michigan, including one that urged residents in the city of Flint to "vote tomorrow" because of long queues.
"Attempts to hinder voters from exercising their right to cast their ballots are disheartening, disturbing, and wrong," New York Attorney General, Letitia James said.
Mr Trump, who is watching the returns from the White House, is expected to address the nation later on 4th November. Speaking in Virginia earlier, Mr Trump said he expected "a great night" and predicted he would win "big" in key states such as Florida and Arizona.
"I think we have a really solid chance of winning," he said. Asked when he would declare victory, he added, "When there's victory. If there's victory… there's no reason to play games."
Likewise, Mr Biden is reportedly at his home with family in Wilmington, Delaware, with few aides around.
Appearing earlier on Election Day in Delaware, Mr Biden said he was "hopeful" and highlighted the "overwhelming turnout particularly of young people, of women"