The Vice-Chairperson for the Public Interest and Accountability Committee (PIAC), Professor Akosua Dankwah has indicated that the $1.4 billion oil revenue loss in 2020 was due to the outbreak of the COVID-19 pandemic.
Speaking in an interview, she explained that, the restriction on movement caused the demand for oil to reduce which indirectly affected the unit price of oil.
"If in 2019 we were selling one unit for GHC100, now nobody was going anywhere. So, it means at some point the companies were down to zero; the companies were in dire state. What we generally could have earned, we didn't because of the global lockdown."

Professor Dankwah
Oil Revenue Challenges
Commenting on the challenges the committee has faced in their 10 years of existence, she stated that, one major challenge is the issue of service rental.
"In terms of challenges, there are a number of things that has happened in the past. But one of them is with the service rentals that the companies have to pay.
"What we do is that; we put heat on the regulations that allows us to go after companies who refuse to pay. And we have done that with the amendment of the PRMA Act."

Professor Dankwah
Additionally, she said it was fair to say there had been some slippages with the revenue. She then disclosed that steps have been taken to monitor the activities of the oil revenue.
"Every year we do a report, a half year report and an annual report. We have done that for ten years consecutively and we are in the last stage of finalizing the end of year report for 2020.
"We also do go to the various project sites to see what exactly is being done with the oil monies."

Professor Dankwah
Projects Undertaken with Oil Revenue
She disclosed that, one of the major things the oil revenue has been able to do is with the implementation of the Free SHS program by the Akufo-Addo government. She indicated that, although other aspects of the Free SHS policy can be criticised, the public must note that, it is funded with the oil revenues.
Furthermore, Professor Dankwah revealed that, another project the oil revenue was used to undertake is the new terminal at the Kotoka International Airport.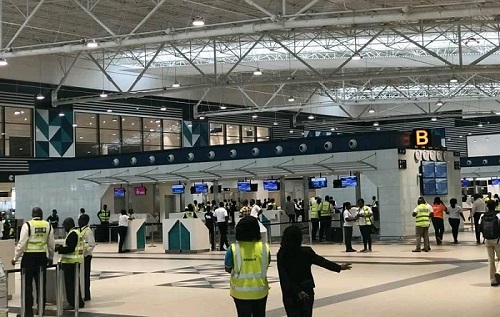 Also, she suggested that if the oil revenues are utilised effectively, that is building infrastructure that can yield revenue, it will also be ideal.
"Oil revenue cannot last forever. So, if we build infrastructures as we have done with the terminal,;that will keep giving back revenue year-on-year-on for the next generation and the next generation after that."

Professor Dankwah
PIAC At 10
Professor Dankwah said for the Committee to have been in existence for ten years is something everyone should be proud of. Especially with regards to having a committee that actually demands accountability for the oil revenue amongst others.
"I think this is something all of Ghana should be proud of; because this idea of having the public also interested in what happens with our oil monies. It's a novel idea and Ghana can be proud to be one of the very few countries in the world;that has something of this sort and we have kept at it for ten years."

Professor Dankwah
 Read Also: Energy Ministry Budgetary Allocation Approved By Parliament