Foreign Direct Investments (FDIs) amounting to US$3 billion is expected to find its way into Ghana's economy by 31st December 2021, Mr. Yofi Grant has revealed.
Mr. Yofi Grant, the Chief Executive Officer of the Ghana Investment Promotion Centre (GIPC), disclosed this forecast while speaking at the GIPC's Annual Investment Summit under the theme '#SparkUp2021'.
GIPC's predictions for 2021, contradicts the "anticipated steep decline in FDI as the Covid-19 pandemic aggressively threatened to destabilize the Ghanaian economy", Mr. Grant disclosed.
The CEO revealed that regardless of the United Nations Conference on Trade and Development (UNCTAD) stands on the country's FDI position, the Ghanaian economy is performing outstandingly.
UNCTAD ascribed an average pandemic-induced decline in global FDI to 42 percent, however some regions were individually expected to have varied decline levels.
Africa's FDI is expected to decline by 18 percent, developing economies in Asia are expected to have FDI decline by 4 percent, Latin America and the Caribbean are expected to witness a 37 percent decline in FDIs.
"As at the middle of the year, despite the weak position by UNCTAD, we are seeing some very interesting numbers.

"In the first half the year, a total of 122 projects (94 new projects and 28 upstream existing projects) worth US$829 million have been brought in through foreign direct investments."

Mr. Yofi Grant
According to Chief Executive, the United Kingdom, the Peoples Republic of China, the Commonwealth of Australia, the Netherlands, and the Republic of South Africa have distinguished themselves as major sources of inward investment to the Ghanaian economy.
Significant project revenues, as we predict, will emerge from the Agriculture and Construction sectors, among other profitable sectors of the Ghanaian economy, Mr. Grant disclosed.
All the same, total investments increased to a sum of US$2,796.49 million in 2020, the FDI total component of US$2,650.97 million represents a substantial 139.06 percentage increase on the FDI sum of US$1,108.93 million in 2019.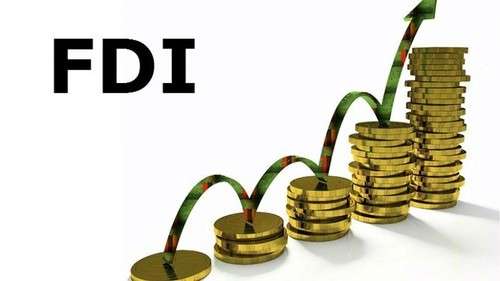 FDI performance amidst Covid-19
Last year (2020) witnessed a stunning performance with total FDI inflows amounting to some US$2.6 billion.
With high expectations on a possible influx of investments, 279 investor funded projects were registered with GIPC within the year.
These projects which comprised of "129 newly registered projects, 131 upstream developments and 19 free zones activities, have been distributed across eight (8) administrative regions in Ghana".
Greater Accra has been identified to have received a 'lion's share' with 231 projects to the regions credit, among other regions.
Similarly, considering the sector-by-sector investment allocation, the manufacturing sector received US$1,270.53 million worth of investments to its credit, whereas the services and mining sectors received US$656.19 million and US$424.32 million worth of FDIs.
Additional equity in forms of cash and products amounting to some "US$69.28 million was ploughed back as investment from 172 already existing companies", whereas about US$240.97 million was derived from 52 solely Ghanaian-owned companies.
Meanwhile, the year 2021 remains promising, as GIPC maintained its standard of performance for the first half of this year, while reaching for outstanding performance with a new and innovative approach towards attracting more investors through the African Continental Free Trade Agreement (AfCFTA).
ALSO READ: EasyJet rejects takeover bid from Wizz Air