The Celebrity lookalike group known as 4Kings have claimed that winning the Grammys is a vision and objective they have set for themselves in all of their pursuits.
The group made headlines in recent weeks in the media following their newfound craft of imitating celebrities particularly top Ghanaian musicians including, Mr. Drew, King Promise, Kuami Eugene, and Medikal.
In an interview, the group stated that their recent appearance on a television show had many people questioning why they were given such a big stage, but they felt it was appropriate because they believe they are meant for the Grammys.
According to the quartet, everything they did was geared towards winning the Grammy Awards which is a platform that recognizes outstanding achievements in the music industry.
They stated:
"Delay interviewed us and people are saying that they do not understand why she interviewed us but they are forgetting that we are Grammy boys.
"The Grammy [Award] is ours. Everything we do is for the sake of the Grammys. Our fights, the suffering… It's all because of the Grammys".

4Kings
The 4Kings believe that people criticize them because their line of work is in an unexpected space.
They concluded:
"Something that is difficult will definitely not come easy. So sometimes doing things people least expect comes with criticisms".

4Kings
Professions of celebrity lookalikes before they rose to fame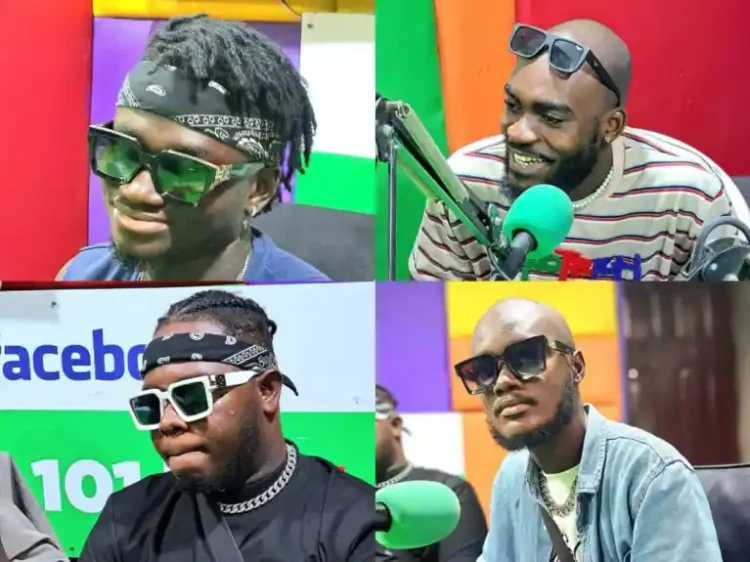 Prior to becoming famous for having a striking resemblance to some Ghanaian musicians who are well-celebrated for their musical prowess, Steve Quams, Courage, Robert, and Future known together as 4Kings, had individual jobs.
In their interview on 16th July 2023, 4Kings made up of the lookalikes of King Promise, Kuami Eugene, Mr. Drew, and Medikal had stories to tell.
Future (Mr. Drew's lookalike):
"I was born in Lapaz and stayed at Awoshie for both Junior High School (JHS) and Senior High School (SHS). I attended Glorious Mission School and furthered at Abetify Presby where I studied Visual Arts. I completed school in 2020.
"After school, I worked as a spare parts dealer at Abossey Okai. Then I left to work with my uncle at a sachet water company. I also worked as a barber. My mum stays at Obuasi and my dad at Ofaakor. My dad stopped caring for me after class 5".

Future (Mr. Drew's lookalike)
Steve Quamz (Kwami Eugene's lookalike):
"I was born at Asuom Kade in the Eastern Region. I attended Asuom Senior High after which I moved to Accra in 2018. After school, I worked as a supermarket attendant while staying with my brother in Ashongman, Accra.
"My father is late but my single mother took care of us. My father had three wives so I have a lot of step-siblings but only 4 biologically related siblings".

Steve Quamz (Kwami Eugene's lookalike)
Robert (King Promise's lookalike):
"I was born at Breman Asikuma [Central Region] but bred in Koforidua in the Eastern Region. I attended Goka SHS in the Brong Ahafo Region and completed school in 2017. I am the firstborn of two siblings; I have a sister.
"I moved to Accra just five months ago. My parents are in Koforidua; they're still married. They know I'm in Accra but they don't know exactly where I am. After school, I have never engaged in menial jobs, just music. I was in the lookalike job before fame. I travel from region to region scouting for fellow lookalikes like me".

Robert (King Promise's lookalike)
Courage (Medikal's lookalike):
"I was born in Akatsi, Volta Region. I have 3 siblings and I am the second child. I attended Akatsi JHS and furthered at Akatsi SHS. I read Visual Arts and completed school in 2017.
"After school, I moved to Tema in 2018. Before then, I was a mobile money operator. I also worked with a printing press where we produced t-shirts. I stayed with my brother at Michel Camp".

Courage (Medikal's lookalike)
These individuals have gained attention and recognition from many admirers in the last couple of months.
They began sharing content featuring themselves dressed and styled similarly to the musicians they resembled, often lip-syncing or mimicking their favorite artists' performances.
Meanwhile, the 4Kings have gone ahead to release two songs and are now recognized as a music group. The songs are 'Yentie Obiaa' and 'Greater Than'.
READ ALSO: A Class 4 Teacher's Advice That Changed Kofi Kinaata's Life