President Nana Addo Dankwa Akufo-Addo has assured the residents and leaders in the Oti Region of the construction of a bridge over the Oti River.
The President as part of his tour of the region said government is committed to constructing the bridge, as it remains a demand on top of government's priority projects to be undertaken in the newly created Oti region.
The President who is currently on a two-day tour of the Volta and Oti regions told Chiefs from Dambai, Krachi and Nchumuru areas that he is committed to ensuring that the bridge is constructed in this last term of his administration before he leaves office.
"For the Oti bridge, I am determined, I made the promise and I am going to see to it that it is done. If you talk about legacy, I want the Oti bridge to be my legacy project."

Akufo-Addo
President Akufo-Addo further urged the people of the region to continue supporting government in its resolve to deliver on its mandate.
According to the President, the Oti bridge when constructed would facilitate the transport of food and movement of people across the lake and would be an easy route that would connect the Northern region to the Southern part of the country through the Eastern corridor.
President inspects IRECOP project
Also, as part of his tour in the Oti and Volta region, the President who is inspecting and commissioning some projects also inspected the progress of work on the Oti Integrated Recycling and Compost Plant (IRECOP) project being undertaken in Dambai by the Jospong Group of Companies.
He expressed satisfaction at the progress of work and commended the Jospong Group of Companies for leading the way as far as waste management is concerned.
President Akufo-Addo further commended the Jospong Group of Companies for their efforts and investment into the waste management sector of the country.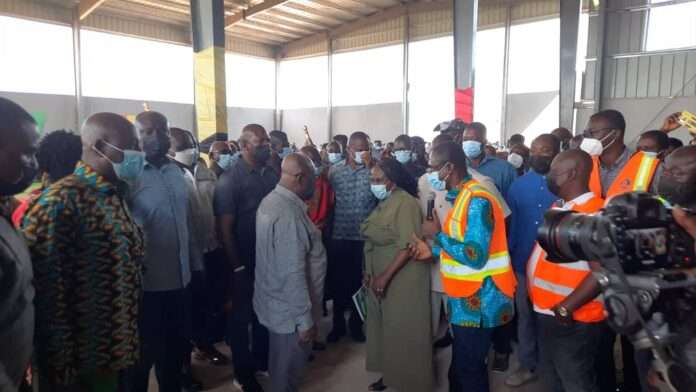 The IRECOP Project in one of many waste treatment plants government is building in partnership with the private sector being led by the Jospong Group of Companies aimed at making Ghana a clean place, most especially the cities.
According to the contractors, the ongoing construction works have already created some 2,000 indirect jobs for the youth in the Oti enclave with 150 more job opportunities to be created when the facility fully starts operations.
The project which is near completion is expected to be fully completed and commissioned for operations by the end of the year.
Project to provide jobs after completion
The Minister for Sanitation and Water Resources, Cecilia Abena Dapaah, who was also on the tour explained that, the President's visit was to afford him the opportunity to see for himself the progress of work on the project which is currently being undertaken in some other places.
According to Cecilia Dapaah, "the facility, when completed will put an end to the numerous refuse dumps scattered in the region.
"The Oti IRECOP will not only receive solid waste from various municipalities in the region, but will equally turn waste into usable products for the benefit of good people of Oti".

Cecilia Dapaah