The President of the Confederation of African Football (CAF), Dr. Patrice Motsepe, has arrived in Accra on Wednesday, October 20, 2021 for a two-day visit. This is Dr. Patrice Motsepe's first visit to Ghana since he was elected into office as President of CAF in March 2021.
The CAF President arrived in Ghana's capital, Accra with his wife Precious Molio and son Tlhope Motsepe. Just after touching down, Dr. Motsepe expressed his joy for coming to one of the greatest football nations on the continent and the world at large.
"I feel honored to be in Ghana to participate in this youth summit and also to meet the football community. I feel very proud of Ghana and your achievements as a country. Ghanaians work hard, and study hard and have integrity. This country has exceptional talents across industries and it's indeed a privilege to be here.
"It's good to help the youth and so I am glad to be here to share ideas with the youth and also to meet the President of the Republic of Ghana and other top officials".

Dr. Motsepe
The GFA President, Kurt Okraku in his welcome address said: "I am super excited to welcome you to Ghana. It's not easy sacrificing to travel 13 hours to be in Ghana. We are blessed to have you here and we want to assure you that you are home".
Courtesy call on Vice President
Dr. Patrice Motsepe paid a courtesy call on the Vice President, Dr. Mahamudu Bawumia earlier today where he held discussions on the development of the youth through football.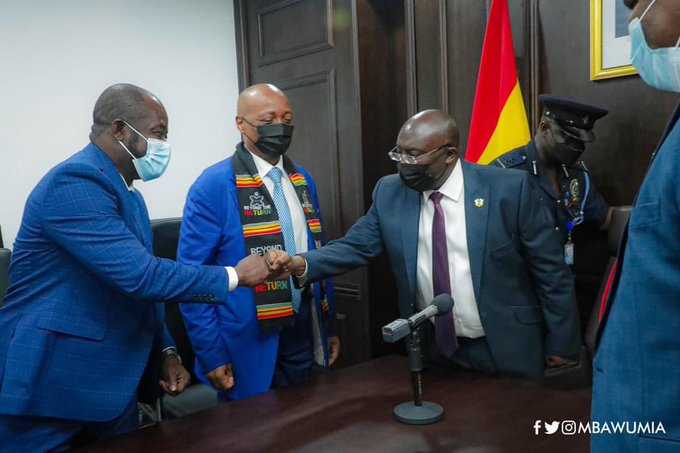 "This morning, I welcomed Dr. Patrice Motsepe, President of the Confederation of African Football (CAF), to the Jubilee House ahead of his participation in the Youth Connekt Africa Summit in the country.
"We discussed, among other things, developing African football to create more opportunities for African youth, as well as strengthening CAF inter-club competitions to make it more financially rewarding for African football clubs".

Dr. Mahamudu Bawumia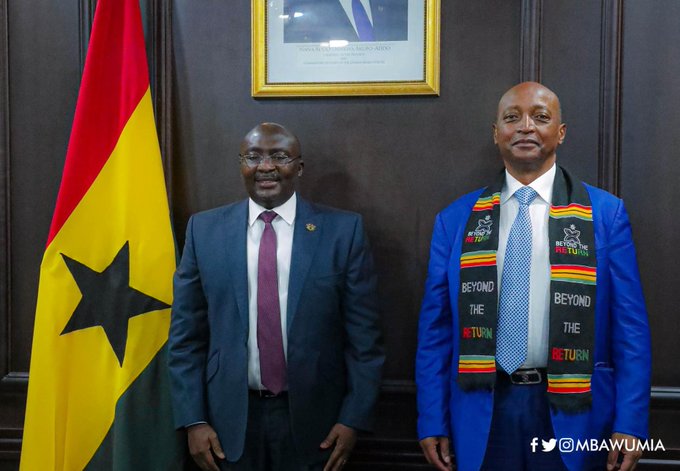 The South African businessman who took over the reins of CAF from Ahmad Ahmad in March this year will attend a number of programmes during his stay in the West African country.
During his visit, Dr. Motsepe will be the Special Guest at the Youth connekt Programme – an initiative of H.E Nana Addo Dankwa Akufo Addo, President of the Republic of Ghana.
A meeting with the President
Dr. Motsepe is also scheduled to meet with the President Nana Addo Dankwa Akufo Addo at a Dinner event in Accra on Wednesday evening to brainstorm on how to transform the African Youth. His meeting with the first Gentleman of the Land will also touch on policies and programmes that are relevant for the development of African Football.
The Ghana Football Association (GFA) hinted that it will organize a breakfast Meeting for the CAF Boss at the Kempinski Hotel in Accra. At the GFA breakfast meeting, Dr. Motsepe will meet Youth and Sports Minister, Hon. Mustapha Ussif, Football stakeholders, GFA Executive Council Members, and Corporate Ghana. Also in attendance, will be past and present football administrators as well as the Media.
Dr. Patrice Motsepe will round up his visit with a donation at the Dworwulu Special School before a brief session with Ghana's Sports, Hon. Minister Mustapha Ussif on Thursday evening.
The GFA urged the Sports Media to take note that there shall be an opportunity for a media interaction (Questions and Answers) at the Conference Room of the Ghana Football Association at midday on Thursday, October 21, 2021.
READ ALSO: Producer Price Inflation rises to 8.8% in September 2021