At least eight people were killed when a car bomb exploded at an army base in the Somali capital Mogadishu with the toll expected to rise, military and emergency services have confirmed.
The attack, claimed by the al-Qaida allied terrorist group, Al-Shabaab militants, targeted a compound near Somalia's national stadium where soldiers from the Somali National Army (SNA) are stationed.
The blast sent shockwaves through the city and a cloud of smoke overhead. Windows were blown out in buildings nearby.
"There was a heavy blast at the 27th brigade camp. A vehicle loaded with explosives rammed the entrance and there are casualties. Eight people died and more than twenty others were wounded," Mohamed Abdirahman, a lieutenant in the SNA reported.
Hospital sources have confirmed that around twenty wounded people, mainly soldiers, were wounded in the blast.
"We have taken at least twenty injured people to hospitals, some of them in critical condition," the city's emergency medical responders told the local media.
Witnesses said the vehicle passed by a checkpoint before a huge explosion erupted near the military camp. Suleyman Hassan, a witness, said a minivan loaded with explosives detonated just outside the entrance.
"There are casualties, and some vehicles are burning. We can see clouds of smoke," he said.
Soldiers opened fire after the explosion which sent clouds of smoke into the sky, also said Halima Abdisalan, a mother of three who lives near the area.
"We ran indoors in fear. Soon I could see a military pickup speeding and carrying many soldiers covered with blood. I do not know if they were all dead or injured," she added.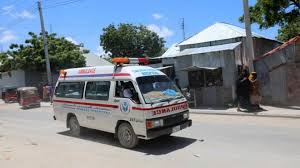 The blast comes days after a suicide bombing killed at least four people, including the bomber at a Mogadishu restaurant that is popular with security forces and government workers.
Claiming responsibility for the incident, the military operations spokesman of the al Shabaab militant group, Abdiasis Abu Musab said,
"We conducted a successful martyrdom operation on a major apostate military base in Mogadishu. The enemy suffered many casualties and wounded, military vehicles destroyed."
Al Shabaab has been fighting to overthrow the internationally recognised central government and establish its rule based on its own interpretation of Islamic Sharia law since 2008. As a result, bombings and other terrorist attacks are common in Mogadishu, although few have been recorded in recent months
The Somali military, backed by the African Union Mission in Somalia, forced al-Shabab extremists out of the capital Mogadishu in August 2011. The militants however still hold sway of rural areas in southern and central Somalia, staging attacks in the city and elsewhere.
While Somalis and returnees from the country's diaspora continue to invest in elevating the country to greater heights, the insecurity poses a daily threat and complicates political tensions. The recently reopened sports stadium in the Warta-Nabadda district was seen as a symbol of the country rebuilding after years of conflict.
Somalia had aimed to hold its first one-person-one-vote in 50 years, but that prospect is fading.