Tundu Lissu, the leader of Tanzania's main opposition party, Chadema, has said he will not accept the results of general election held on 28th October citing voting irregularities.
Mr Lissu is competing against President John Magufuli who is seeking a second term in office despite criticism by the opposition of "stifling dissent and narrowing democratic space" since he took office five years ago.
President Magufuli, nicknamed by his supporters "The Bulldozer", has won plaudits for his efforts to strengthen the economy, reduce wasteful public spending and pursue large-scale development projects.
Results declared by the electoral commission cannot be challenged in court, bringing urgency to vote-monitoring efforts, but the opposition has reported observers were turned away from scores of polling stations.
Many journalists from foreign media were not able to obtain accreditation to cover the elections while major social media networks were blocked, accessible only through virtual private networks. In addition, major independent observers such as the European Union were not invited or barred, unlike in previous elections.
Having survived an assassination attempt in 2017, opposition candidate, Lissu returned from exile this year to challenge President Magufuli. The 52-year-old has urged supporters to stage protests on the streets if election results are announced on 29th October without proper counting of ballots.
"Mass democratic action will be the only option to protect the integrity of the election," said Lissu.
Tanzania's electoral commission has however dismissed opposition allegations of fraud in the general election. The head of the National Elections Commission, Semistocles Kaijage, said claims of fake ballot papers were unsubstantiated.
 In a statement after polls closed, he also claimed that allegations of irregularities circulating on social media were not true adding that, the commission had not received any formal notification of alleged fraud
Tanzania Elections Watch, a regional initiative of prominent personalities, has pointed out hate speech and intimidation of candidates.
"There are legitimate concerns that the heavy police and army deployment across Zanzibar is intimidating residents and creating fear and despondency that could deter voters from turning out," Tanzania Elections Watch said in a statement.
It warned that actions by security forces have created a "climate of fear".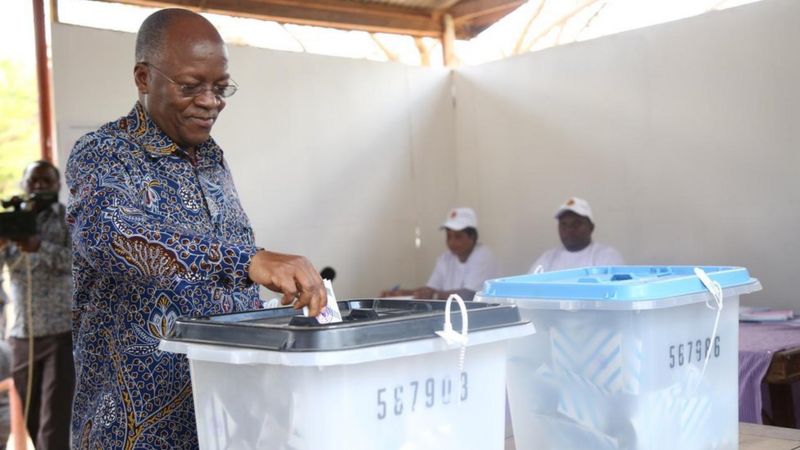 Though Tanzania has long been deemed a haven of stability in East Africa, local and international observers say the country has seen a worrying suppression of the opposition and freedom of speech under President Magufuli.
Although Mr Magufuli and Mr Lissu have drawn huge crowds during their campaigns, Mr Lissu's campaign was suspended for seven days after being accused of sedition by the electoral commission. He had reportedly said that Mr Magufuli was planning to rig the elections, but the commission said there were no such attempts.
Under Tanzania's electoral rules, the winning candidate requires a simple majority to become president. Some 29.1 million people are registered to vote – six million more than than the previous polls in 2015.
They include residents of the semi-autonomous archipelago of Zanzibar who vote for the islands' leaders – including the election of a Zanzibari president – as well as in Tanzania's national election.