Salama Marouf, a Hamas government official disclosed on Wednesday, October 11, 2023 that at least 30 people have been killed and hundreds wounded as Israel attacked the Gaza Strip with hundreds of air raids overnight.
The Israeli military confirmed that it hit several Hamas targets during the night.
Marouf noted that dozens of residential buildings, factories, mosques and shops were hit.
According to the Palestinian Health Ministry, the death toll in Gaza from Israeli attacks has now risen to 950 with more than 5,000 injuries.
An Israeli military spokesperson also stated that the Israeli death toll has now risen to 1,200, with more than 2,700 injured.
Gaza's health ministry reported that two people were killed and two paramedics injured as a result of an Israeli air attack on an ambulance in Gaza City.
The health ministry accused Israeli forces of "deliberately targeting" Palestinian medical workers.
The health ministry said that the emergency workers were attacked while trying to evacuate injured people following an earlier air raid that hit al-Karama Tower in the Karama neighbourhood of Gaza City.
Meanwhile, the company supplying electricity to Gaza could shut down "within hours" as "it is running out of fuel", authorities said in a statement.
Gaza has experienced widespread power interruption due to relentless bombardment by Israeli forces since the weekend attacks by Hamas.
 Hospitals and shelters in the enclave have already been forced to operate without power.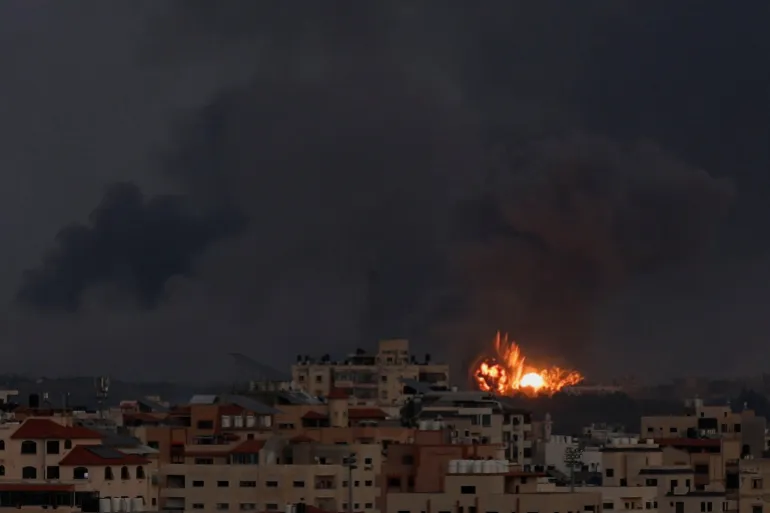 Israel To Launch Ground Offensive Against Hamas
According to a news agency, Israeli Defence Minister, Yoav Gallant has pledged to escalate the war against Hamas with a ground offensive.
Gallant was reported as telling Israeli troops near the Gaza fence that "We started the offensive from the air, later on we will also come from the ground."
He said, "We've been controlling the area since day two and we are on the offensive. It will only intensify."
He added, "Hamas wanted a change and it will get one. What was in Gaza will no longer be."
In a video posted on X, Jonathan Conricus, a Spokesman for the Israeli military, affirmed Gallant's comments, saying that hundreds of thousands of troops were amassing near the Gaza Strip for the war with Hamas.
"What we are doing in these areas close to the Gaza Strip, is that we have deployed – actually we have sent – our infantry, armoured soldiers, our artillery corps and many other soldiers from the reserves – 300,000 in numbers – in different brigades and divisions and they are now close to the Gaza Strip, getting ready to execute the mission… that we have been given by the Israeli government."

Jonathan Conricus
"And that is to make sure that Hamas, at this end of this war, won't have any military capabilities by which they can threaten or kill Israeli civilians," he added.
Meanwhile, The Israeli military reported "quiet" on Israel's border with Syria and said that "there are no attacks and active combat events" on the frontier with Lebanon.
Conricus added that Israel has deployed tens of thousands of additional units, including infantry, special forces and artillery corps to the border with Lebanon to counter any attacks from Lebanon's Hezbollah group.
READ ALSO: Biden To Speak On Israeli-Hamas War