U.S Secretary of State, Antony Blinken met with Saudi Crown Prince, Mohammed bin Salman in Riyadh on Sunday, October 15, 2023.
The meeting with the kingdom's de-facto ruler lasted a little under an hour, a US official said.
After, Blinken disclosed that the meeting with the Saudi Crown Prince was "very productive."
This was in response to a question from a reporter as he returned to the hotel where the US delegation was staying.
In a statement, U.S State Department Spokesperson, Matthew Miller revealed, "The Secretary highlighted the U.S's unwavering focus on halting terrorist attacks by Hamas, securing the release of all hostages, and preventing the conflict from spreading."
"The two affirmed their shared commitment to protecting civilians and to advancing stability across the Middle East and beyond," Miller added.
Also, The U.S embassy in Israel announced that U.S nationals and their immediate family members will be evacuated from Haifa via sea for Cyprus on Monday, October 16, 2023.
A statement from the embassy read, "Boarding begins at 08:00am [05:00 GMT]. US citizens must arrive at Haifa port passenger terminal no later than 09:00am local time."
"Boarding will proceed in order of arrival," it added.
Talking to a news agency, Yara Hawari, a senior policy analyst at Al-Shabaka think tank and host of the podcast Rethinking Palestine, accused Blinken of facilitating ethnic cleansing in Gaza.
Hawari said, "Blinken will be trying to emphasise the creation of humanitarian corridors as a part of his meetings with politicians in the Middle East and elsewhere."
"… They're [the U.S] describing it as a safe passage for Palestinians to get out of Gaza. But the fear is that this is not a humanitarian corridor at all, but rather the permanent march of exile," Hawari opined.
"The Israeli government does not respect any international convention on the right of return for refugees. So there is no expectation whatsoever that once the bombardment has stopped, Palestinians will be able to return to their homes."

Yara Hawari
Iran's mission to the UN warned late on Saturday, October 14, 2023, that if Israel's "war crimes and genocide" were not halted immediately, "the situation could spiral out of control" and have far-reaching consequences.
Gaza Death Toll Soars To 2,329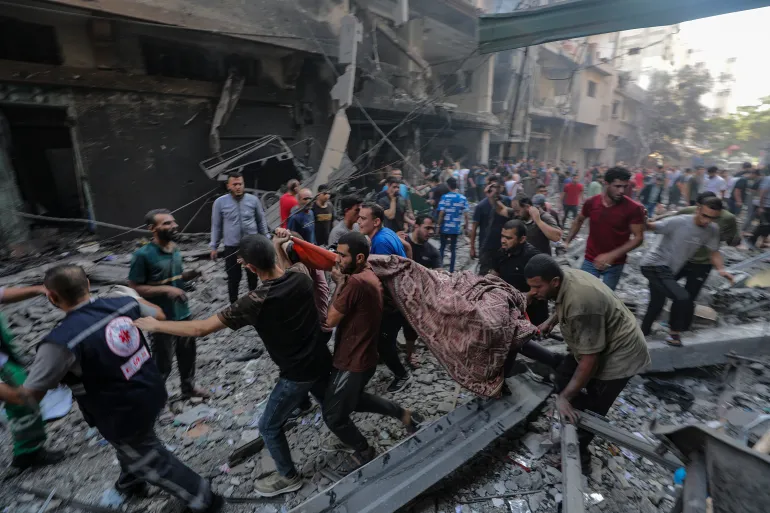 According to the Gaza Health Ministry, Israeli air raids have resulted in the deaths at least 2,329 Palestinians in Gaza and wounded 9,714 others.
About 1,300 Israelis have also been killed.
Ice cream trucks and refrigerated food vehicles are being used to store bodies as hospital morgues in Gaza have been overwhelmed by the number of people killed in Israeli air attacks.
Also on Sunday, Israeli army Spokesperson, Jonathan Conricus renewed orders for Palestinians in northern Gaza to flee south.
Addressing his warning to "the people of northern Gaza, Gaza City and all the northern environment," Conricus said in a video posted to social media, "Go south, listen to our warnings."
"We are saying that there's going to be significant military activities here and we urge the civilians to evacuate for their own safety," he said.
This came as people continued to flee to the south of Gaza.
Meanwhile, The U.S has deployed a second aircraft carrier to the eastern Mediterranean in a show of "ironclad" support for Israel.
U.S aircraft carrier USS Dwight D Eisenhower Carrier Strike Group joins the USS Gerald R Ford carrier, which arrived earlier in the Mediterranean.
U.S Secretary of Defence, Lloyd Austin said on Saturday, October 14, 2023, that the purpose of both these ships and all their accompanying military aircrafts is to deter the conflict from spreading wider.
READ ALSO: Journalist Killed In South Lebanon