At a press conference with his U.S counterpart in Tel Aviv, Israeli Defence Minister, Yoav Gallant called on Palestinians in Gaza City to evacuate to southern Gaza.
US. Secretary of Defence, Lloyd Austin arrived in Israel on Friday, October 13, 2023.
Austin becomes the second high-ranking U.S. official to visit Israel after the recent Hamas attack.
U.S. Secretary of State, Antony Blinken visited Israel on Thursday, October 12, 2023.
Before the press conference, Austin met with Israeli Prime Minister, Benjamin Netanyahu.
The press conference came after Austin met for nearly two hours with Gallant and the Israeli War Cabinet.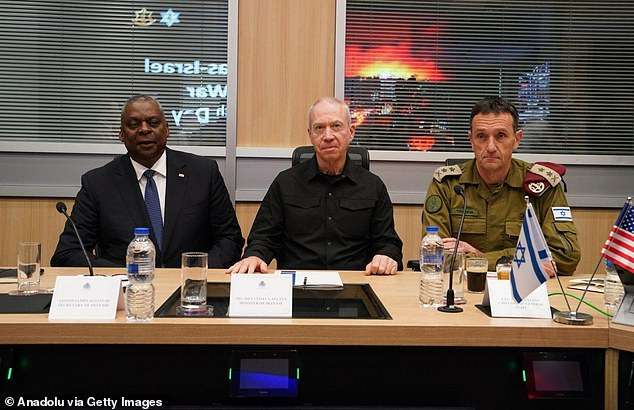 Gallant did not answer a question about whether his forces will give civilians just 24 hours to leave Gaza.
However, he said that those who want to save their lives must "go south."
"Those who want to save their lives, please go south. We are going to destroy Hamas infrastructures, Hamas headquarters, Hamas military establishments and take this phenomena out of Gaza and out of the Earth."

Yoav Gallant
When asked whether evidence of Iran's involvement in the attacks by Hamas have been found, Gallant remarked, it "doesn't matter … the idea is an Iranian idea."
"Iran, Hezbollah and Hamas are one axis, an axis of evil. Everything is directed, generally from Iran. The permission is given by Iran. The money is supplied by Iran, and the ideas are shaped in Iran."

Yoav Gallant
Standing beside Gallant at the press conference, US. Secretary of Defence, Lloyd Austin said, "This is no time for neutrality, or for false equivalence, or for excuses for the inexcusable."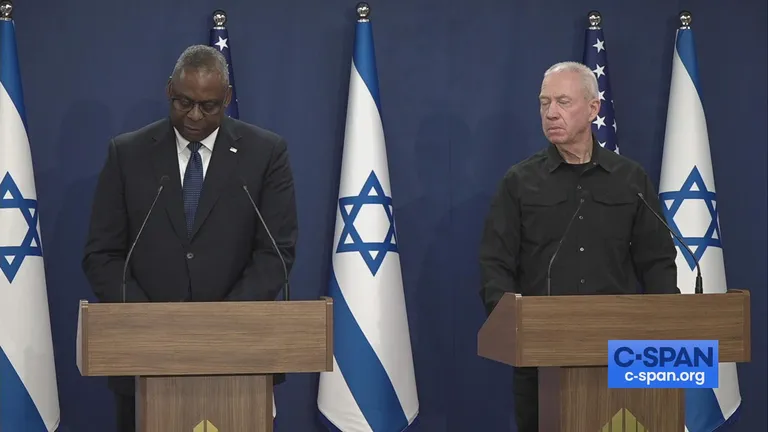 "There is never any justification for terrorism. And that's especially true of this rampage by Hamas," he added.
Additionally, Austin disclosed that the U.S will make sure that "Israel has what it needs to defend itself."
"We will stand with Israel even as we stand with Ukraine… U.S security assistance to Israel will flow in at the speed of war," Austin said.
He iterated that munitions, air defence capabilities and other equipment and resources was coming into Israel.
Asked about the likelihood of civilian casualties in Gaza, Austin said that Israel has the right to defend itself and added that he has worked with Israeli forces over the years, when he was in the military.
"They are professional, they are disciplined and they are focused on the right things," he told reporters.
It is expected that as part of his visit, Austin will also witness firsthand how American weaponry, provided to Israel, is being utilized.
Meanwhile, Germany's Foreign Minister, Annalena Baerbock is also in Israel.
Baerbock, who is visiting Israel, revealed that she is in talks with Egypt and the UN on safe spaces for residents of Gaza after Israel's evacuation order.
Speaking in Netivot in southern Israel after talks with her Israeli counterpart, Eli Cohen, Baerbock said that "capacity in southern Gaza is already overloaded … we are in discussion with the UN, with Egypt and with different actors about this."
She added that she was in Israel to speak to the family members of Germans held captive by Hamas.
European Commission President And European Parliament President Arrive In Israel
Also on Friday, European Commission President, Ursula von der Leyen and European Parliament President, Roberta Metsola arrived in Israel to offer support.
This visit marks a milestone as the first such trip by a European Commission President to Israel since 2012.
Ursula von der Leyen took to social media to share her purpose of visit, stating they were in Israel to send a message of solidarity after the "worst terror attack Israel has endured in generations."
Roberta Metsola echoed this sentiment, expressing that terror would not prevail and that they must do all they can to stop Hamas and mitigate the humanitarian consequences.
Von der Leyen and Metsola visited Kfar Azza.
"The horror of what happened here is unspeakable," Von der Leyen noted on X.
Metsola also posted on X, "Hamas are terrorists. They don't represent the aspirations of the Palestinian people, they hinder it."
READ ALSO: King Abdullah II Warns Against Attempts To Displace Palestinians