Speaking at a news conference, Yoav Gallant, the Israeli Defense Minister, said that Israel must remain resolute in its offensive, despite "pressures".
"The pressures on us will increase; we may soon be forced to make difficult decisions," he said.
"For me, fighting cannot be stopped until its achievements are reached. No going back, no stopping – just going forward," he added.
Speaking to reporters, Gallant described Gaza City as the "largest terrorist base ever built."
He said there would not be a humanitarian pause without bringing back captives held by Hamas.
He said, "Humanitarian pauses, to me, means first and foremost the captives held by animals."
Meanwhile, the Israel Defence Forces (IDF) disclosed that it is fighting in "significant centres" of the Gaza Strip during a "complex and difficult" war with Hamas militants.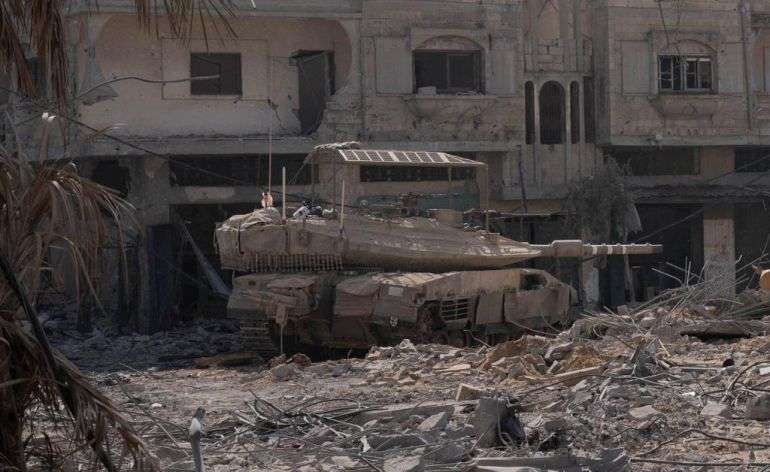 Israel's southern command has been fighting non-stop for a month to "strike the core of Hamas' capabilites", Maj. Gen. Yaron Finkelman said in a statement on Tuesday.
He said Israeli soldiers are "eliminating terrorists, discovering tunnels, destroying weapons and continuing to advance into the center of the enemy."
"We are fighting at this very hour in significant centers of the Gaza Strip. I have just returned from there. For the first time in a decade, the IDF is fighting in the heart of Gaza City. In the heart of terror. This is a complex and difficult war, and unfortunately, it has costs."

Maj. Gen. Yaron Finkelman
British Army Preparing For Evacuation Operation
The British Army is "posturing" itself for the prospect of a "non-combatant evacuation operation" in the Middle East in the event the Israel-Hamas conflict expands, the UK's chief of the general staff said.
Gen Sir Patrick Sanders, appearing before parliament's defense select committee, was asked about the readiness of the armed services and the steps taken in light of the fighting, the PA Media news agency reported.
Sanders said, "I don't think it's likely that we are going to find ourselves drawn into combat or conflict in the region, or certainly we would seek to avert that."
"At the moment, the role we're playing is a combination of exploiting the network we have, so for example we have our special operations forces, the rangers, in Lebanon.
"They have been there for many years and they have built up a very close relationship with Lebanese armed forces and through that, that provides an insight and influence on to Lebanese decision-making and seeing things from the other side of the northern border which clearly concerns Israel."

Gen Sir Patrick Sanders
Discussing "contingency" options, he said, "Clearly there is a prospect, if the conflict does expand, of a non-combatant evacuation operation in some parts of that region. We're posturing ourselves for that."
Also, Rishi Sunak, UK Prime Minister stressed UK's support for Israel's right to defend itself.
This came as he updated the House of Commons on the situation in the Middle East.
He said more than 100 Britons had now left Gaza.
And he said the government would "not stand for the hatred and antisemitism we have seen on our streets".
"It sickens me to think that British Jews are looking over their shoulder in this country, that children are going to school covering up their school badges for fear of attack.
"This government will do whatever it takes to keep the Jewish community safe."

Rishi Sunak
READ ALSO: WHO Spokesperson Calls Gaza's Condition "Unjustifiable"