In spite of public opposition, the Taliban announced on Tuesday, July 25, 2023 that all beauty salons in Afghanistan must now close as a one-month deadline ended.
Earlier this month, The Taliban announced a ban on beauty salons, saying that they were giving all salons in Afghanistan one month to wind down their businesses and close shop.
Sadiq Akif Mahjer, Spokesman for the Taliban-run Virtue and Vice Ministry, did not specify whether it would use force against salons that do not comply.
The ruling is the latest restriction on the rights and freedoms of Afghan women and girls following edicts barring them from education, public spaces and most forms of employment.
The Taliban stated that its decision to outlaw beauty salons stems from the fact that salons offered services forbidden by Islam and caused economic hardship for the families of grooms during wedding festivities.
The Taliban listed a series of services offered by beauty salons that it said violated Islam. They included eyebrow shaping, the use of other people's hair to augment a woman's natural hair and the application of makeup, which it said interferes with the ablutions required before offering prayers.
Grooms' families have been required by custom to pay for pre-wedding salon visits by bride and their close female relatives.
Its earlier announcement of a one-month deadline for salons to wind down their businesses led to a rare public protest in which dozens of beauticians and makeup artists gathered in Kabul, the capital.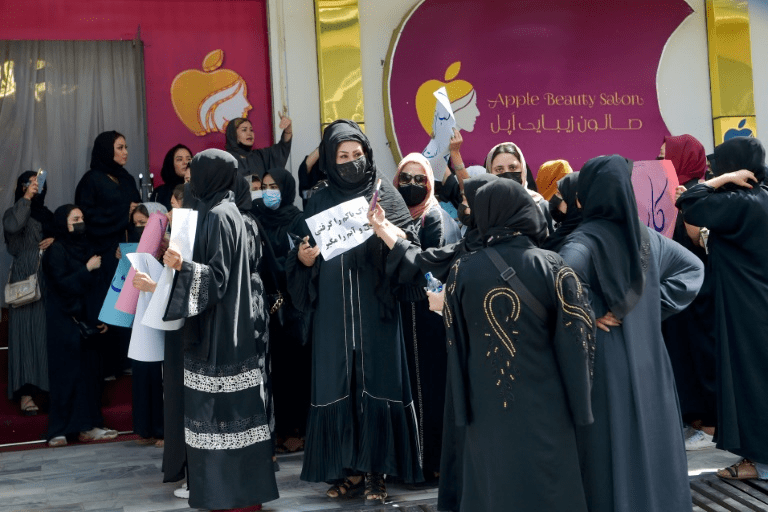 Security forces used fire hoses and tasers and shot their guns into the air to break up the protest.
The ban also drew concern from international groups worried about its impact on female entrepreneurs.
The United Nations disclosed that it engaged with Afghanistan authorities to get the prohibition reversed.
U.N. Deputy spokesman, Farhan Haq, averred on Monday, July 24, 2023 that U.N. Secretary-General Antonio Guterres "supports the efforts by the U.N. Assistance Mission in Afghanistan (UNAMA), which has called on the de facto authorities to halt the edict closing beauty salons.
"UNAMA has said that this restriction on women's rights will impact negatively on the economy and contradicts support for women's entrepreneurship, and we're seeking a reversal of the bans."

Farhan Haq
"This Isn't About Getting Your Hair And Nails Done"
Heather Barr, the Associate Women's Rights Director for the Human Rights Watch, averred, "This isn't about getting your hair and nails done. This is about 60,000 women losing their jobs."
"This is about women losing one of the only places they could go for community and support, after the Taliban systematically destroyed the whole system put in place to respond to domestic violence."

Heather Barr
Last month, a report to the UN's Human Rights Council by Richard Bennett, the special rapporteur for Afghanistan, stressed that the plight of women and girls in the country "was among the worst in the world".
"Grave, systematic and institutionalized discrimination against women and girls is at the heart of Taliban ideology and rule, which also gives rise to concerns that they may be responsible for gender apartheid."

Richard Bennett
Since taking control of Afghanistan in August 2021 as U.S. and NATO forces withdrew, the Taliban have implemented harsh policies, in spite of earlier assurances of a more moderate reign than during their last period in power in the 1990s.
In addition to restricting media liberties, they have prohibited women from using public facilities like gyms and parks. As a result of the actions, which have drawn vehement international criticism, the country is now much more isolated at a time when its economy is in freefall, and a humanitarian catastrophe has gotten worse.
READ ALSO: Akufo-Addo Endorses Cecilia Dapaah's Act Of Corruption- Bawah Mogtari