Russian President, Vladimir Putin has held a meeting with his staunch ally, Belarusian President, Alexander Lukashenko in Russia's southwestern city of Sochi. 
The meeting wass the seventh between the two leaders this year. The last one-on-one meeting took place on July 23, 2023, in St. Petersburg.
In his opening remarks ahead of the meeting, Putin said he would inform Lukashenko on the state of Russia's economy, which he said was "stable and reliable," on his meeting with North Korean leader, Kim Jong Un and their discussion of the "situation in the region," as well as on Ukraine.
"The state of the Russian economy, of course, is reflected in our interaction within the Union State. We have mutual questions, mutual obligations in this regard," Putin told Lukashenko.
Russia and Belarus signed the Union State Treaty; an agreement aiming to deepen the countries' cooperation in economic and defense policy in 1999.
"I am very glad to see you. Thank you for agreeing to come," Putin added. 
Lukashenko responded "I think we can consider trilateral cooperation with North Korea and Russia."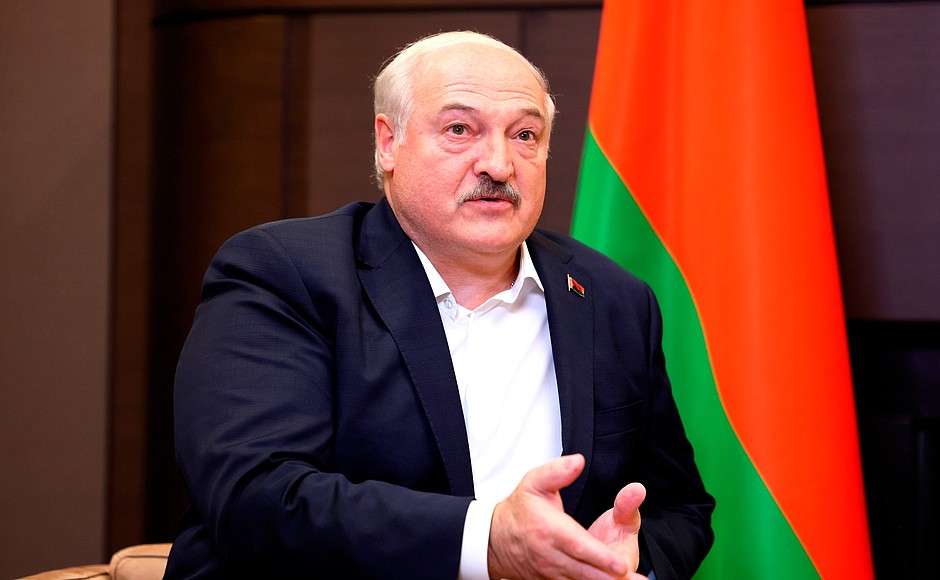 "I know the Koreans are very interested in Russia and I think that Belarus will find something to work on considering the existing problems," Lukashenko iterated.
Speaking at a press conference after his talks with Lukashenko, Putin discussed his recent meeting with Kim in Russia's far east.
Putin said Moscow will seek opportunities to develop "good neighborly relations" with North Korea, claiming that Russia will operate in the framework of international law and is "not going to violate anything."
"We do not pose a threat to anyone," Putin added.
Commenting on the possibility of peace talks with Ukraine, Putin said, "I already said that we have never refused to hold talks. So, please, if the other party wants them, they should say so directly. I am speaking about it but the other side keeps silent."
Putin Dismisses Speculations About North Korean Involvement In Ongoing War
When asked about speculations that Russia asked North Korea to send volunteers to participate in the special military operation, Putin remarked, "I can say that this is complete nonsense."
Special operation is Russia's preferred term for its ongoing war in Ukraine.
Putin noted, "A couple of days ago, I said that 270,000 of our men, our warriors signed contracts with the Russian Armed Forces. But it was old information."
"This morning it was reported to me that there were 300,000 contracts signed by people who – I want to emphasise this – are ready to sacrifice their lives for the interests of our Motherland, to protect Russia's interests," he added.
"Yes, we pay them some money, which is much, much more than the average monthly salary in the country.
"But can money compensate for a death or a severe injury? Of course not. So first of all, our men who sign these contracts are guided by the most noble patriotic sentiments. It commands respect. This is the first thing."

Vladimir Putin
Moreover, Putin stated that Russia has detected foreign mercenaries and instructors both on the battlefield and in the units where training is carried out, adding, "I think yesterday or the day before yesterday someone was captured again."
"We do not need to invite people from outside for combat operations. Moreover, I want to emphasise this again, 300,000 people signed contracts and came as volunteers."

Vladimir Putin
Putin noted that the new units have been equipped with advanced types of weapons and equipment, and some of them are already 85–90 percent equipped.
READ ALSO: More than 40 SMEs Benefit from MTN Enterprise Support Programme