Russian President, Vladimir Putin has blamed the U.S and the West for the war in Ukraine.
He accused the U.S of having "colonial thinking."
Speaking during a meeting at the Valdai Discussion Club, Putin asserted, "We did not start the so-called war in Ukraine. On the contrary, we are trying to finish it."
Putin declared that western leaders had lost "a sense of reality" because of the U.S' attempts to expand its footprint around the globe, and he questioned what right the U.S had to lecture other countries.
He added that the West has dismissed compromise.
"All the time, we hear, 'You must', 'You have to', 'We're seriously warning you.' Who are you anyway? What right do you have to warn anyone? Maybe it's time you yourself got rid of your arrogance, stopped behaving that way towards the world."

Vladimir Putin
Also Putin stated that Moscow's economy can deal with increased military spending now and in the coming years.
He said, "We had a budget surplus of over 660 billion roubles ($6.69 bn) in the third quarter."
"On the whole, we have a stable, sustainable situation. We have overcome all the problems that arose after sanctions were imposed on us and have started the next stage of development," he added.
A draft plan published last month indicated that defence spending will account for almost one-third of Russia's total budget expenditure in 2024.
Moreover, Putin said that Ukraine has lost more than 90,000 troops since the start of its counteroffensive in early June.
Putin said that Ukraine has also lost 557 tanks and approximately 1,900 armoured vehicles.
He re-emphasised that he was "sure" Russia would achieve its goals in Ukraine and said its mission was to "de-Nazify" the country.
Putin has consistently claimed the war is a special millitary operation aimed at combatting Nazis in Ukraine.
Russian Missile Strikes Hroza, Kills 51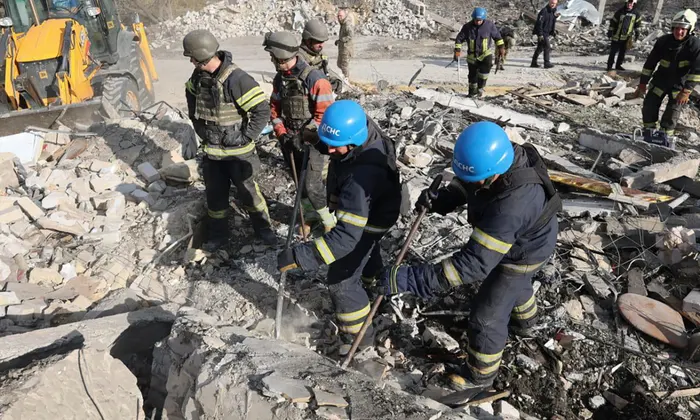 A Russian missile struck cafe and grocery store in Hroza, a village in the Kupiansk district of the northeastern region of Kharkiv.
The attack left at least 51 dead, including a six-year-old boy.
The Ukrainian President, Volodymyr Zelenskyy, described the missile strike as a "brutal terrorist attack."
"This was a fully deliberate, demonstrative, and brutal terrorist attack," Zelenskyy posted on X.
"My condolences to all those who have lost their loved ones! Assistance is being provided to the wounded," he noted.
"Russian terror must be stopped. All those who help Russia circumvent sanctions are criminals. Those who continue to support Russia are all supporting evil.
"Russia needs this and similar terrorist attacks for one reason only: to make its genocidal aggression the new normal for the entire world. And I thank every leader and every nation that supports us in the defence of life!

Volodymyr Zelenskyy
Zelenskyy iterated that Ukraine is now focused with European leaders, "in particular, on how to strengthen our air defence, reinforce our troops, and protect our country from terror."
He added, "Terrorists will face retaliation. One that is both just and powerful."
Ukrainian Interior Minister, Ihor Klymenko disclosed that residents of Hroza, which has a population of about 330 people, were attending a memorial service at the cafe that was hit.
"From every family, from every household, there were people present at this commemoration," he told a Ukrainian news agency.
"This is a terrible tragedy," he added.
In an earlier update, Klymenko said, in preliminary findings, that Russia used an Iskander missile to hit the cafe and store.
READ ALSO: Zelenskyy Says Russia Could Attack Beyond Ukraine by 2028