Media personality and ex-girlfriend of dancehall artist, Shatta Wale, Michy, has asserted that men influence ladies to undergo body enhancement.
According to her, most ladies have mentioned that men are attracted to a certain body shape, thus, they undergo surgeries to look attractive to these men.
She further stated that she has realized a lot of these ladies who enhance their bodies begin to experience some changes in their life which includes, traveling outside the country as well as living comfortably.
She however said men are the ones investing in such new traits in women.
She said:
"In this generation, the ass has become an asset and it looks like there's a stereotype, there is a type of body you are supposed to have which has become the new normal thing among women. Off late, when you enhance your butt, you go on holiday, you buy Benz and other cars. I don't know how that came about but I think you men are the ones investing in that. Because if you ask, they will tell you that is what the men like".

Michy
The media personality opined that she has undergone some surgeries, not just for the body but also for other reasons.
She stated:
"I have been through several surgeries, not just for cosmetics but for other stuffs as well. We are lucky to be alive. When I remove my clothes, I love the way I look when I am naked. When I am in a dress, You'll think I have flat buttocks but when I remove my dress and look into the mirror, I look sexy. I am fit and that is all that matters".

Michy
This body enhancement is commonly done by most celebrities, putting them in shape and curvier than they looked before.
Michy warns and inspires women towards independence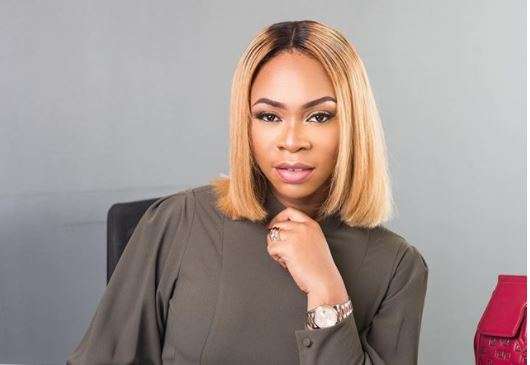 Social media influencer and television personality Michy revealed how she makes money.
Michy said:
"Influencing – if someone says they are working on the internet and getting money, you better believe it".

Michy
The media personality said that there is a lot of money to be made online. She noted, advising that it depends on one's consistency, creativity… and of course, when the numbers are very large, it is also a factor in that.
She said smiling:
"I get a lot of money as an influencer and TV presenter.
"The music money is what we're now about to take".

Michy
The impressed host enumerated all the avenues that Michy makes money from including being a landlady and an eatery owner, adding that it is abnormal for a beautiful woman to be broke.
She prompted the host and stressed:
"If you follow your beauty, you'll have sex with every man. If I follow my beauty, I will not work".

Michy
The entertainer said she could make a call at that moment and get money but she worriedly asked, at what price would it be.
She argued and lamented that the painful part is a lady going about sleeping with multiple men to make money. Adding that a man will help a woman but not ultimately be on par with him.
She asserted:
"Rather, if a woman will rise to where she truly belongs, it's your own strength.
"However, the best part of help from men would be a bonus".
She advised women:
"It's always better to do it on your own so you truly know you're independent".

Michy
READ ALSO: Kumchacha Strikes After Asantewaa Allegedly Leaked Nude Video