Ghanaian singer and songwriter, Sista Afia has collaborated with award-winning rapper, Sarkodie, to record a song.
In a video making rounds on social media, both artists are seen; in the studio nodding their heads to the music which Sista Afia described as a "banger". Taking to her Instagram page she wrote:
"When the King Nods, you know it's a BANGER".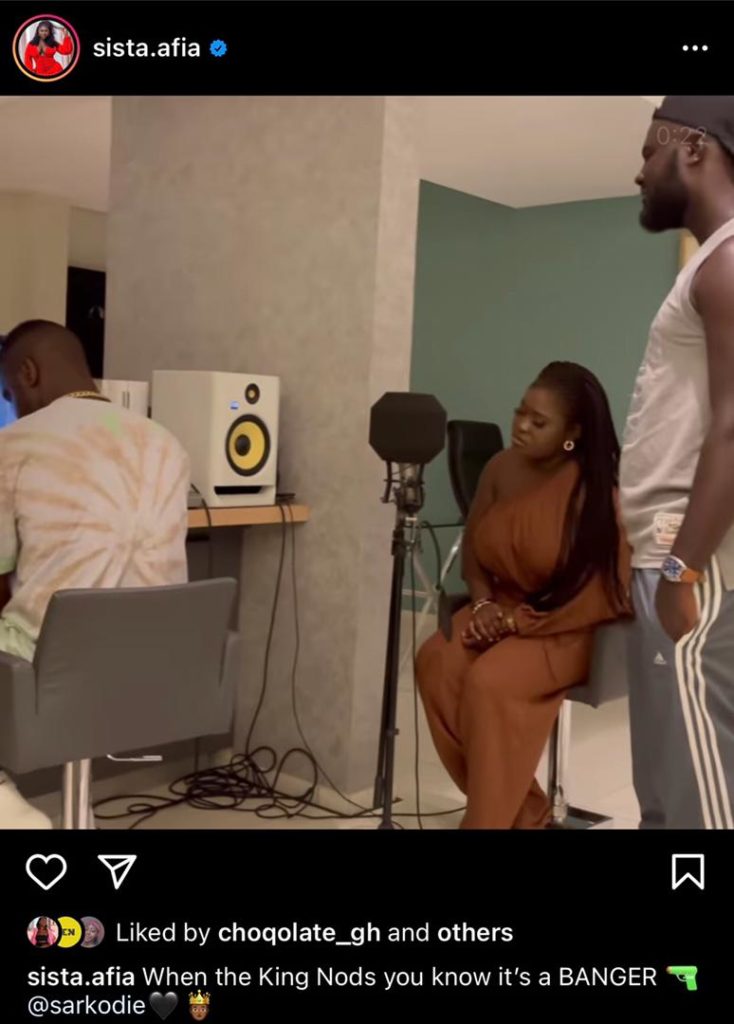 Her post was well-received by her fans and Sarkodie's fans as well. Some were very curious to know the title;of the song as others wanted to hear what the song sounds like.
That notwithstanding, some were already;anticipating the song and mentioned that they couldn't wait for its release. Some reactions to her post:
Sista Afia amazed by Sarkodie's musical abilities
Sista Afia over the years has collaborated with several;rappers to record various songs. However, based on some earlier posts, she;was in awe of the musical prowess of Sarkodie. Sista Afia who couldn't hide her amazement took to Twitter and;wrote: "Best Rapper Category should be divided into two, one for only Sarkodie in the list and the other for other artists. He is something else".
Her tweet caused a huge controversy on the;social media platform. Clearly, Sista Afia's post wasn't well-received as several netizens backlashed her. Some commentators suggested;that she has disrespected other rappers with those comments.
However, according to the sensational vocalist in an;interview, she explained that her comment was not meant to downgrade;other good rap talents. But she was just mesmerized by the talent Sarkodie possesses.
"Sarkodie's talent as the best rapper in Ghana;is of no doubt, and other rappers would agree with me. He is just an extraordinary talent;and to me, it is a huge privilege working with him. Yes, there are equally good rappers, but Sarkodie is something else. As you know, I've worked with so many rappers, both;male and female, but there is something different about Sarkodie, and;anyone who has worked with him will confirm my assertion".
She also disclosed that her single with;Sarkodie would be released in the coming days and she is certain music lovers would love;the upcoming hit song.
Sarkodie 'hoards' song from fans
Speaking of music releases, Sarkodie disclosed;in a Twitter post that he will be releasing a song today. However, he has come out with a different announcement with regards to the release of the song. In a series of Twitter posts, the rapper disclosed;that he is "hoarding" the music, as he wants his fans to sign up to 'Ceek', a music streaming platform;for them to get "exclusives" of his songs.
"Sorry for "Hoarding" music (as you say). I will be dropping songs off the #NoPressure album and some singles too… I promise to release everything I record for you guys.
"I will be dropping loads of content, but I want my fam (SarkNation) to have exclusives before the world gets them. y'all click on ceek.com and sign up… Random releases of music audio and video… Sign up now to be first to watch before everyone else"
Read also: I am not inspired yet- Sarkodie hints at not releasing a new song.