The Western Regional Secretary of the New Patriotic Party (NPP), Charles Bissue, has stated that it is important to keep land borders closed regardless of demonstrations calling for its reopening. According to him, the land borders are difficult to control, hence making it difficult to ensure COVID-19 travel measures are enforced.
Mr. Bissue averred that the immediate reopening of the country's land borders without definite measures to check the inflow and outflow of human traffic will spell doom for the country. He disclosed that if the land borders opened, many unauthorized routes cannot be monitored.
"It is important to keep land borders closed regardless of demonstrations calling for its reopening. Our land borders are polarized and we cannot protect it at a time where we are fighting against the COVID-19 pandemic. Even if we require COVID-19 tests to allow people to travel via our land borders, it will still be a problem for us. There are many unauthorized routes being used by people and we can't supervise all of them making it risky to reopen them immediately."

Charles Bissue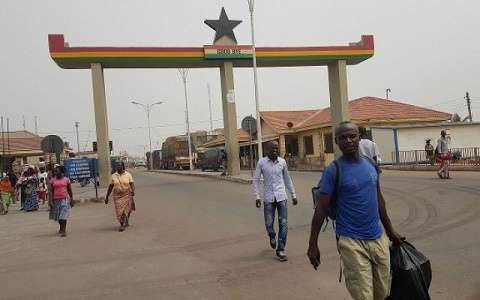 Air borders are more secured
Charles Bissue said the air borders are more secure and easy to monitor; because the security there is stronger than the land borders;adding that it gives us more reason to strengthen security at our land borders. The politician then appealed to border towns to give the government some time to implement measures for the safe reopening of land borders.
"Not all situations will favor us in the case of a pandemic and we should understand the government. I think the government is doing well;and this issue of the reopening of land borders isn't something we should stretch. We need to take a critical look at it and make sure it works."

Charles Bissue
Elections a blessing in disguise
Also, speaking on the recent comments with regards to the 2020 elections,; Charles Bissue described the election as a "blessing in disguise". He explained that the 2020 elections taught the party so many lessons that they will like to work on going into the 2024 elections.
"If the party is to break the eight-year cycle, then it must work towards a stronger front before succeeding in government. 2020 election was a blessing in disguise because it was a lesson despite the projects we implemented. So, we need to make an introspection of what happened. This is because you can have the message but it won't get to the people. Can you imagine that the Free SHS enrolled about 1.2 million students in the first year and then the next year, we had 2 million enrolling.

On the average, 1.5 million students enrolled for free SHS. I believed some of these students voted for us but why did we lose some seats? One thing we need to do is to train our delegates too. As a delegate, you need to check the criteria of the person you vote for. Stronger political parties make stronger governments. It is a wakeup call for us as a party"

Charles Bissue
Despite admitting that the NPP needs to work harder to break the eight year cycle, he stated that the opposition National Democratic Congress (NDC) keeps on getting weaker and weaker as their opponent for the 2024 elections. He however said the NPP is not going to keep a complacent attitude even though they believe Ghanaians will reward them in 2024 for their good works.