Deputy director general of the National Disaster Management Organisation (NADMO), Seji Saji, has revealed that his outfit is working tirelessly to ensure there's minimum loss of lives and properties following the devastation caused by the Akosombo Dam spillage.
According to him, the challenge it is having now is due to the sudden increase in volume of water, which "caught a lot of people unaware".
Nonetheless, he noted that NADMO has been prepared in terms of undertaking sensitization exercise and relaying information out there in collaboration with VRA to communities prior to the spillage undertaken.
"Our challenge is how the whole thing happened, it happened so suddenly… Most importantly, for us at NADMO, we are looking at trying to rescue or bring to the barest minimum loss to properties and lives. As we speak, we have been able to move a lot of people to the safe havens that we had predetermined before this incident happened, and we have been able to move some relief items to them."

Seji Saji
Mr Saji assured that NADMO is stepping up its approach in handling the impact of the spillage because the "situation is unfolding and things are happening very fast".
Currently, he noted that the team is in Bator and will move to North Tongu, Central Tongu, then to South Tongu to offer relief items.
"All these places have some amount of relief items that we are distributing, but these relief items are dry food items and non-food items. We are getting to the point where we have to quickly start doing wet rations – that's cooked food because if you give the people uncooked food, how are they going to prepare it…"

Seji Saji
Simulations carried out by VRA
On his part, Deputy chief executive for engineering and operations at the Volta River Authority (VRA) Edward Ekow Obeng Kenzo, has revealed that a simulation exercise was carried out by the Authority prior to the dam spillage.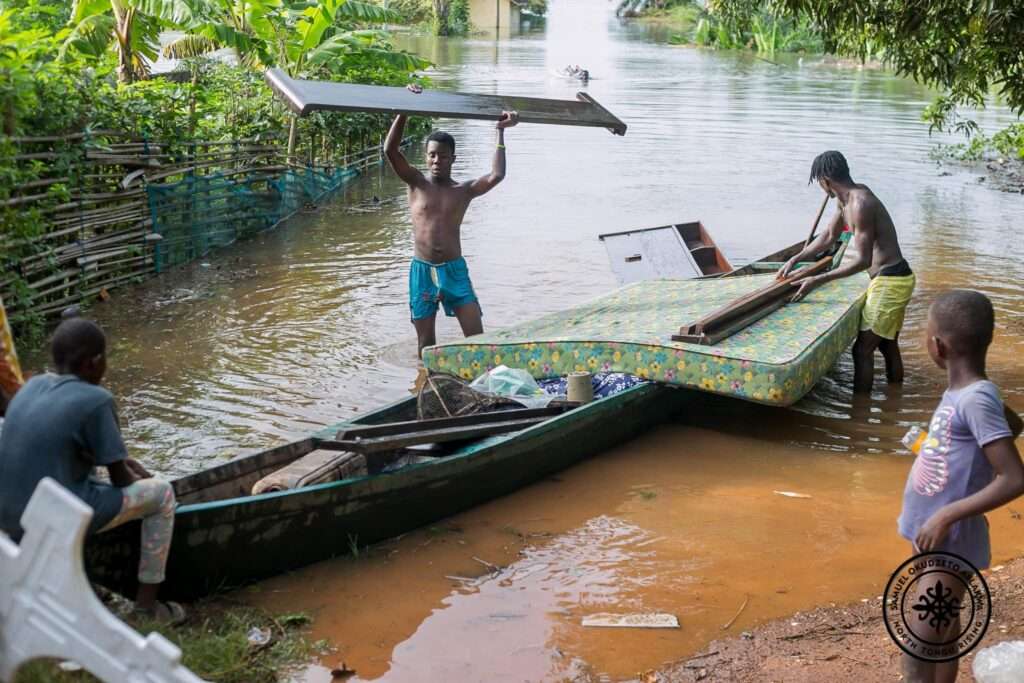 He stated that the simulation was part of the Authority's normal operational procedures, and further underscored that the simulations undertaken by VRA is not a new phenomenon because it's supposed to carry out such an activity every 10 years to prepare the communities in case there's flooding.
"So, it was more of a preparation towards this situation that we find ourselves in today, because per our forecast, we knew that such a thing would happen this year. So, that's why we carried out the simulation. The simulation was carried out somewhere in May, and it went very well. The communities were well-prepared…"

Edward Ekow Obeng Kenzo
Moreover, Mr Kenzo expressed that communities were informed prior to the spillage. He emphasized that per the Authority's "emergency preparedness plan", all the nine districts which are normally affected by the spillage were communicated to.
"That program was followed to the letter, all of them were informed, all of them knew what they had to do, safe havens were earmarked – in case it happens, where you should go and what to be done from the there. So, they were all informed and all of them were in the picture…"

Edward Ekow Obeng Kenzo
Commenting on the timeline for the spilled water to recede, Mr Kenzo highlighted that as it tracks the forecast, "we know that by middle to end of October, the inflows should recede drastically". From there, he assured that the Authority will start making other arrangements to reduce the spillage.
"We knew that after forecast, the dam level will be going high, so up to September 15, we started spillage gradually per the forecast… As we speak today, the inflow is about 348,000, so we're tracking, and we think we are on track… To achieve per the data that we have collected over the years, the water will start receding from mid of October hopefully to the end of October, then we can make the best decision for those in affected communities, at the same time, save the dam."

Edward Ekow Obeng Kenzo
READ ALSO: Lawyer Reveals Presidential Pardon As Ato Essien's Lifeline