Australian Prime Minister, Anthony Albanese disclosed on Friday, July 28, 2023, that he was confident that the United States will follow through with a deal to provide his country with submarines powered by U.S. nuclear technology.
The AUKUS partnership is set to be discussed by U.S. Defence Secretary, Lloyd Austin and U.S. Secretary of State, Antony Blinken in meetings with Albanese and other Australian officials in Brisbane on Friday and Saturday, July 29, 2023.
AUKUS is an acronym for Australia, the United Kingdom and the United States.
Under the deal, Australia will buy three Virginia-class submarines from the United States and build five of a new AUKUS-class submarine in cooperation with Britain.
Australian media have focused on a letter signed by 25 Republican lawmakers to President Joe Biden that warned the deal would "unacceptably weaken the U.S. fleet" without a plan to boost U.S. submarine production.
When asked about the Republican letter, which noted the AUKUS agreement was "vitally important" but should not weaken the U.S fleet, Albanese told reporters, "I am very confident and spoke with their Defence Secretary Lloyd Austin last night."
The Prime Minister stressed that he had been reassured by discussions he had with Republicans and Democrats earlier in July at a NATO summit in Lithuania.
"What struck me was their unanimous support for AUKUS, their unanimous support for the relationship between the Australia and United States."

Anthony Albanese
Austin and Blinken arrived in Brisbane late Thursday, July 27, 2023, ahead of annual bilateral meetings with their Australian counterparts; Defence Minister Richard Marles and Foreign Minister Penny Wong.
Later on Friday, Albanese publicly welcomed Austin and Blinken at a media event before the three began a meeting with Marles, Wong, U.S. Ambassador to Australia; Caroline Kennedy and Australian Ambassador to the United States; Kevin Rudd, a former Prime Minister.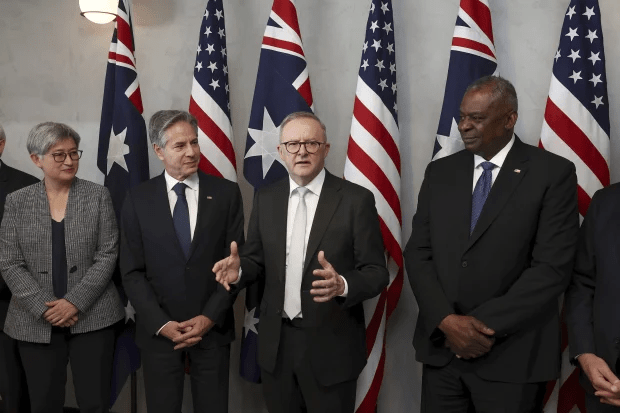 Albanese iterated that the U.S. and Australia were working together to promote security, stability and prosperity in the region.
AUKUS Program On Track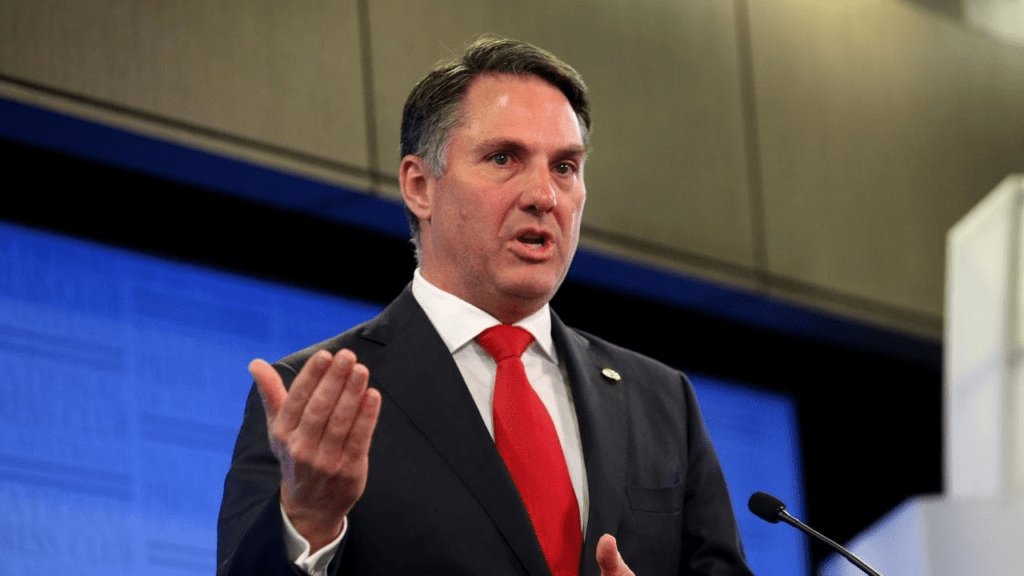 Also on Friday, Australian Defence Minister, Richard Marles stated that the AUKUS program was on track.
Marles acknowledged, "Congress can be a complicated place as legislation makes its way through it, but actually we're encouraged by how quickly it is going through it."
"And we are expecting that there will be lots of discussions on the way through," Marles added.
"Fundamentally, we have reached an agreement with the Biden administration about how Australia acquires the nuclear-powered submarine capability and we're proceeding along that path with pace."

Australian Defense Minister, Richard Marles
Moreover, Marles noted that Australia understood that there was "pressure on the American industrial base" and would contribute to submarine production.
The AUKUS deal is forecast to cost Australia up to 368 billion Australian dollars ($246 billion) over 30 years.
"Why this arrangement is going to be so advantageous for all three countries is because we will develop an industrial base in this country which will contribute to the net capability of Australia, the UK and the US."

Australian Defense Minister, Richard Marles
China's security ambitions in the Indo-Pacific will also be discussed by the security allies. Austin said before meeting with Marles on Friday that the U.S will persist in its support to allies.
"We've seen troubling (Chinese) coercion from the East China Sea to the South China Sea to right here in the south-west Pacific, and will continue to support our allies and partners as they defend themselves from bullying behaviour."

U.S Defence Secretary, Lloyd Austin
Foreign Minister of Australia, Penny Wong also informed reporters that the United States was "indispensable to the balance in the region."
Meanwhile, Albanese is planning state visits to both the United States and China before the end of the year.
READ ALSO: Ecobank Wins Coveted Euromoney Award as Africa's Best Bank for SMEs for the Second Year Running