Israeli Prime Minister, Benjamin Netanyahu has asserted that the ongoing war between the Israeli military and Hamas militants is a battle between "an axis of evil" and "forces of progress."
Netanyahu made this analogy at a press conference with UK Prime Minister, Rishi Sunak with came after the two leaders had held talks.
"This is a battle of western civilisation, the battle of the free world, the battle for the future," Netanyahu averred.
"We have here two forces. One is an axis of evil, led by Iran through Hezbollah, Hamas and others, that want to bring back the Middle East to the Middle Ages, to an age of bondage and war and slavery and annihilation. And the other forces – the forces of progress and humanity – that want to push the Middle East into a world of peace and prosperity."

Benjamin Netanyahu
The Israeli Prime Minister added, "We're on the cusp of expanding that peace – and destroying that move was one of the reasons why this action was taken."
"We have to resist it and we have to win. Above all, we have to win. We have to release the hostages," he said.
He described Hamas and its allies as "the modern barbarians; the worst monsters on the planet."
Moreover, Netanyahu admitted that the war would be long, adding that although there would be "ups and downs," the people of Israel had never been more united.
British PM Sunak, speaking following a meeting with Netanyahu, has reiterated his support for Israel and said the UK will increase aid to the region.
"I'm proud to stand here with you in Israel's darkest hour. As your friend, we will stand with you in solidarity, we will stand with your people, and we also want you to win."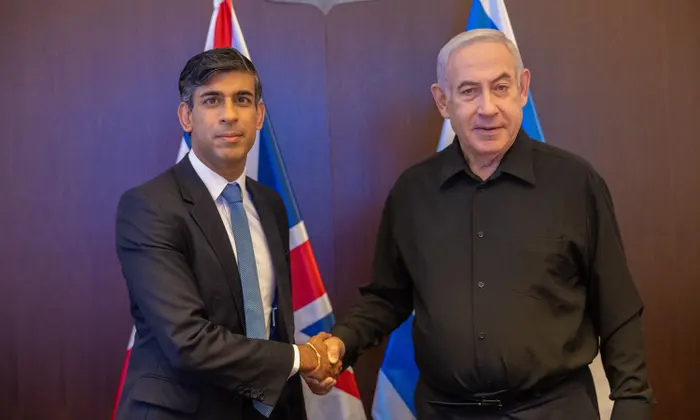 Sunak said Israel had gone through something that "no country; no people should have to endure – least of all Israel."
He also said that the UK supported Israel's right to defend itself "in line with international law", to go after Hamas and to bring back the hostages.
In a reference to concerns over Israel's response to the Hamas attacks, Sunak added:
Now I know that you are taking every precaution to avoid harming civilians, in direct contrast to the terrorists of Hamas, which seem to put civilians in harm's way.
The British PM thanked Netanyahu for his support for British nationals "caught up in this horror", including the hostages.
Sunak also thanked the Israeli government for its decision to announce the opening up of humanitarian routes into Gaza.
Sunak made no mention of a ceasefire.
Sunak Meets Israeli President
Sunak also met with the President of Israel, Isaac Herzog.
A statement from the British Prime Minister's office disclosed that Sunak and President Herzog "stressed the imperative need to avoid further escalation of violence in the region."
"They agreed to continue working together to that end," it added.
Sunak also Herzog that it was also important to provide humanitarian aid to the people of Gaza.
"Palestinians are victims of what Hamas has done. It's important that we continue to provide humanitarian access," Sunak said.
According to the Palestinian health ministry in Gaza, 3,785 Palestinians have been killed in Israeli air raids since October 7, 2023.
Ministry Spokesperson, Ashraf al-Qidra disclosed that from the total death toll, 1,524 were children and 1,000 were women.
Highlighting the toll that the ongoing war has exacted on children, a Palestinian NGO said that one child is killed every 15 minutes by the Israeli bombing of Gaza.
READ ALSO: Russia Says Israel-Hamas Conflict Risks Escalating Into Regional Conflict